GoldenBee Chief Expert Mr. Yin Gefei invited to attend the 25th UN Climate Change Conference (COP25)
source:goldencsr &nbsp&nbsp date:2020-01-19 10:32:03
On December 12-13, 2019, the 25th UN Climate Change Conference (cop25) was held in Madrid.
As an important part of the 2019 UN Climate Change Conference China's side events, the "Green Winter Olympics Action" side event was held in China Pavilion on December 10 local time according to the general arrangement of Ministry of Ecology and Environment. The event was hosted by Director of Academic Committee, Climate Change and Sustainable Development Research Institute of Tsinghua University. Experts from Ministry of Ecology and Environment, Ministry of Science and Technology, and Beijing winter Olympics Committee also attended the event and delivered speeches.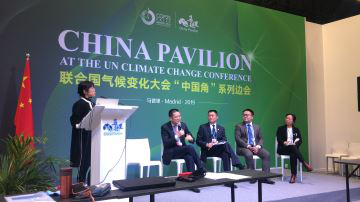 Founder and Chief Expert of GoldenBee, Mr. Yin Gefei was invited to the event and shared views on low-carbon measures in Beijing Winter Olympics with other sustainability and social responsibility specialists from Beijing Municipal Ecology and Environment Bureau, Secretariat of China Green Carbon Foundation, etc.