2022 Top 10 CSR Events in China
source:goldencsr &nbsp&nbsp date:2023-01-13 16:59:00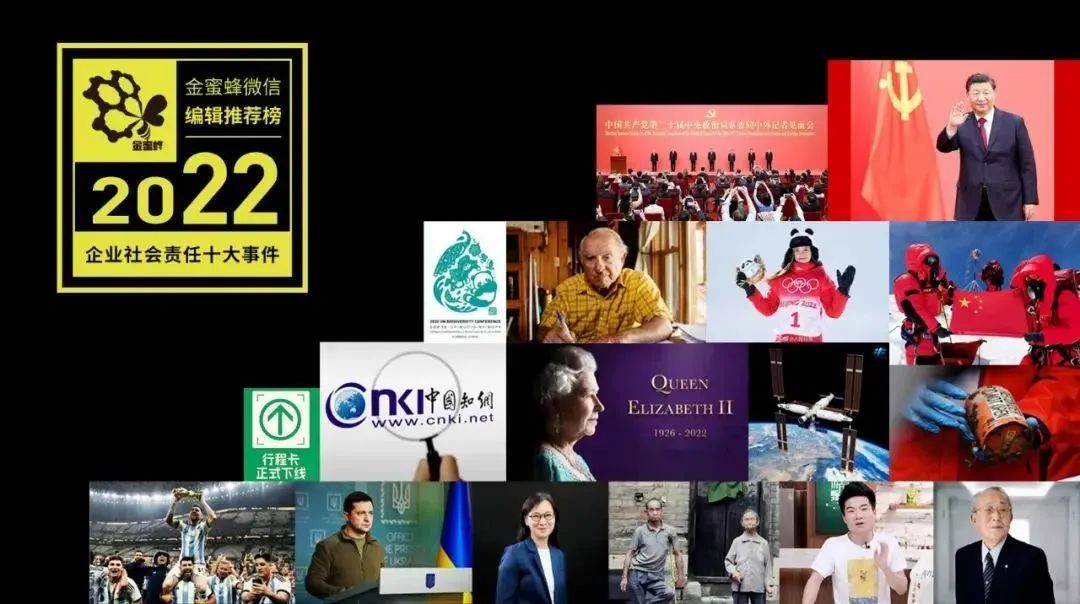 2022 was a year full of twists and turns.
The relations between major powers were turbulent, the COVID-19 pandemic continued to repeat, and climate problems continued to intensify. Against the background of unprecedented changes in a century, China also reached a critical development node where strategic opportunities and risks & challenges coexist, and it is necessary to explore a brighter prospect and direction amid many crises.
2022 was also a year full of hope.
This year, China's high-quality development momentum has not abated, and the concept of sustainability has penetrated into all aspects of Chinese society. From addressing climate change, implementing the "30·60" Decarbonization Goal, to the development of resilient supply chains and green finance, to ESG, sustainable consumption, biodiversity conservation, new policies and regulations and excellent practices had been emerging, injecting strong impetus into China's adaptation to the new development pattern, tapping new development momentum, and accelerating the green and low-carbon transformation.
Since 2006, we have been selecting and publishing the annual list of top 10 CSR events for 17 years. As the first step in 2023, China Sustainability Tribune (formerly known as China WTO Tribune) selected the 2022 Top 10 CSR Events in China (in chronological order) to review and solute all efforts in social responsibility development and welcome a better sustainable world.
Opportunities in China's transition to a nature-positive economy
On January 17, the report Seizing Business Opportunities in China's Transition Towards a Nature-positive Economy was released. According to the report, significant business opportunities can be created by adopting new business practices across three key socioeconomic systems: food, land and ocean use; infrastructure and the built environment; energy and extraction. These three systems are interconnected to unlock untapped economic potential. By 2030, the transformation of China's economy into a "nature-positive" economy could bring about USD 1.9 trillion in new business value and create 88 million jobs.
Reason for listing:
A healthy natural ecosystem is not only about protecting the environment, but also has a huge positive impact on the economy and society. Urbanization, rising purchasing power, and changing consumer behavior are putting enormous pressure on China's natural capital. The report found that 65 percent of China's total GDP, equivalent to USD 9 trillion, is at risk of loss of nature. Accelerating the transition to a "nature-positive" economy is both an opportunity and a direction. By realizing the vision of "ecological conservation" and implementing a new national biodiversity conservation strategy, China can make an important contribution to leading the global transition to a carbon-neutral and nature-positive economy.
SSE requires sci-tech innovation board companies to release ESG reports
On January 18, the Shanghai Stock Exchange(SSE) issued the notice on the disclosure of 2021 annual report of listed companies on the science and innovation board, which for the first time imposed mandatory requirements on the disclosure of corporate social responsibility reports on the Science and Technology Innovation Board, requiring companies in the Science and Technology Innovation 50 Index to disclose social responsibility reports or ESG reports separately, and companies should disclose environmental, social responsibility and corporate governance related information in their annual reports, and focus on disclosing actions to facilitate the "30·60 Goal" and promote sustainable development.
Reason for listing:
The ESG concept provides a feasible solution for listed companies to achieve high-quality development. Through ESG practices, companies can demonstrate all performance other than financial performance, such as whether they are environmentally friendly, open and transparent, and have reliable governance capabilities. For companies on the Science and Technology Innovation Board, if they want to gain more attention from international capital or become part of the international supply chain, improving the ESG management system and making complete, accurate and credible ESG information disclosure will bring greater benefits to the corporate competitiveness.
Implementation Plan for Promoting Green Consumption released to vigorously develop green consumption
On January 21, seven departments including the National Development and Reform Commission issued the Implementation Plan for Promoting Green Consumption, calling for the vigorous development of green consumption. The Plan emphasizes that it is necessary to expand the supply and consumption of green and low-carbon products, improve the institutional policy system and mechanisms that are conducive to promoting green consumption, promote the green transformation and upgrading of the consumption structure, and accelerate the formation of a simple, moderate, green, low-carbon and healthy lifestyle and consumption patterns, providing important support for promoting high-quality development and creating a high-quality life.
Reason for listing:
Realizing carbon peak and carbon neutrality requires not only the green transformation of supply-side production methods, but also the transformation of sustainable consumption patterns and low-carbon healthy lifestyles on the consumer demand side. Enterprises, industries, and platforms should follow the trend to launch more diversified and customized green consumer products and scenarios, and design sustainable consumption promotion methods that are more effective and appeal to consumers. Stimulating and releasing China's green consumption demand is also an opportunity for enterprises to accelerate development in the new consumption trend.
SASAC establishes the Bureau of Social Responsibility
On March 16, the State-owned Assets Supervision and Administration Commission of the State Council (SASAC) announced the establishment of the Bureau of Sci-Tech Innovation and the Bureau of Social Responsibility. The SASAC pointed out that the establishment of these two bureaus will better organize and guide central SOEs to deeply implement the innovation-driven development strategy, actively fulfill corporate social responsibilities (CSR), facilitate stronger and better state-owned capital unswervingly, and accelerate the pace to be world-class enterprises.
Reason for listing:
Since its establishment, SASAC has attached great importance to CSR work, and has made positive progress and achieved remarkable results through a series of measures such as theoretical exploration, issuance of social responsibility policy documents, formulation of development strategies, management improvement, summary evaluation, strengthening information disclosure, international exchanges, and creating a social atmosphere. As the first full-time director-level unit dedicated to social responsibility work established by the central government, the Bureau of Social Responsibility will guide and promote the development of social responsibility of central SOEs into a new realm, and become a landmark event for the Chinese government to promote corporate social responsibility.
The Industrial and Commercial Biodiversity Conservation Alliance launched
On May 20, the Industrial and Commercial Biodiversity Conservation Alliance led by the Foreign Environmental Cooperation Center of the Ministry of Ecology and Environment was officially launched. As an exchange and cooperation platform and network for China's industrial and commercial biodiversity protection, the Alliance aims to promote the participation of industry and commerce in biodiversity conservation, sustainable use and benefit-sharing actions, promote the development of China's biodiversity partnership, and drive all walks of life to contribute to China's implementation of the Convention on Biological Diversity and participation in global biodiversity governance.
Reason for listing:
In order to integrate biodiversity conservation and climate change actions into the economy and people's livelihood, it is necessary to fundamentally change production method and lifestyles, and also need a good mechanism to mobilize and link resources from all parties. As a positive response to the "Global Partnership for Business and Biodiversity" initiative of the Convention on Biological Diversity, the Industrial and Commercial Biodiversity Conservation Alliance will provide support for the formation of a long-term mechanism for business participation in biodiversity conservation and a new pattern of biodiversity governance. Improving the efficiency and effectiveness of biodiversity work in terms of science and technology, funding and platform links, and public participation is more valuable for future ecological protection.
17 ministries and departments jointly release China's National Climate Change Adaptation Strategy 2035
China will seek to basically build a climate-resilient society by 2035, with significant improvements in its ability to adapt to climate change, according to the national climate change adaptation strategy 2035, jointly released by 17 departments including the Ministry of Ecology and Environment on June 7. Specific measures are also proposed in four aspects: strengthening climate change monitoring, early warning and risk management, improving the ability of natural ecosystems to adapt to climate change, strengthening the ability of economic and social systems to adapt to climate change, and building a regional pattern of adaptation to climate change.
Reason for listing:
In 2022, we experienced the hottest summer on record. This warns people that it is extremely important and urgent to adapt to climate change and improve the ability to deal with the risks of extreme weather and climate events. China has always insisted on adapting to climate change as an important part of the national strategy of active response to climate change. But overall, the management of Chinese enterprises to adapt to climate change is still in its infancy, and the risk identification rate is generally low. More active policy guidance and more professional enabling services will help companies improve their climate adaptation capabilities and discover new opportunities such as data information, infrastructure, and climate investment and financing.
First "GoldenKey·SGCC Special", integrates CSR into the management path
On June 28, the State Grid Corporation of China(SGCC or State Grid) and China Sustainability Tribune jointly launched the first "GoldenKey SGCC Special" to select the most representative State Grid solutions for four urgent, challenging and globally universal social/environmental issues, namely, electric vehicle charging, promotion of port shore power, lines and nature, and consumption-side carbon reduction and emission reduction.
On December 16, 17 gold awards, 16 silver awards, 24 bronze awards, and 5 "GoldenKey·Champion" were announced and released after preliminary evaluation, road show, expert review, further enhancing the multiple values of sustainable development contributed by State Grid, and integrating social responsibility into management innovation.
Reason for listing:
Central SOEs are usually large-scale, and it is an important issue to deeply mobilize the social responsibility practice of subsidiaries at all levels. The first "GoldenKey SGCC Special" is an important innovation of SGCC in promoting the path of CSR management. It is also the first central SOE to use a professional platform to show its excellent social responsibility practices to all sectors of society, showing the solid foundation of sustainable development actions, strong social mobilization ability, and the strength to solve global sustainable development problems.
SZSE issues ESG evaluation method and ESG indices
On July 25, Shenzhen Securities Information Co., Ltd. (hereinafter referred to as "Shenzhen Securities Information"), a wholly-owned subsidiary of the Shenzhen Stock Exchange ("SZSE"), officially launched the evaluation method of CNI ESG and released the ESG Indices and the ESG Top Indices of the SZSE core indices (namely, the Shenzhen Component Index, the ChiNext Index, and the Shenzhen 100 Index) following such evaluation method. The index data cover all A-share companies, the index scores are based on the objective rules and public information, and the evaluation results are updated quarterly. According to the latest results, the ESG performance of A-share companies has been improving. The ESG performance of bottom-ranked companies has enhanced significantly as well. These reflect that China's capital markets have achieved good results in serving sustainable development.
Reason for listing:
At present, China's ESG investment is showing a rapid development trend, ESG investment concepts are gradually gaining root, and the ESG investment ecosystem is becoming increasingly sound. The release of ESG evaluation method and ESG indices is the practical measures taken by SZSE to fully implement the new development concept, make full use of the platform functions of the capital market, continuously improve SZSE's characteristic index system, actively meet the diversified investment needs of the market on ESG, and provide better services for the green, low-carbon, and high-quality development.
GB/T 41835-2022 Sustainable Procurement Guide released and implemented
On October 12, the national standard Sustainable Procurement Guide (GB/T 41835-2022) was approved and implemented by the State Administration for Market Regulation and the Standardization Administration. The standard adopts the international standard ISO 20400:2017 Sustainable procurement - Guidance.
Reason for listing:
Procurement is a powerful tool for organizations to assume social responsibility and strive for sustainable development, and is the precursor of production and consumption activities. By integrating sustainability into procurement policies and practices, improving productivity, evaluating value and performance, facilitating communication between purchasers and suppliers and all stakeholders, and encouraging innovation, organizations are provided with opportunities to create more value, guide consumers to green consumption, promote the green transformation of enterprises and the adjustment of production structure, and ultimately achieve green transformation of the entire supply chain.
CAAM issues two CSR group standards for the auto industry
On November 10, the Guidance on Social Responsibility of China Automotive Industry, and Evaluation Index System on Social Responsibility Governance Level of China Automotive Industry were released at the 12th China Auto Forum hosted by the China Association of Automobile Manufacturers(CAAM). As the first social responsibility standard for China's auto industry, it will guide the industry to better fulfill its economic, social and environmental responsibilities.
Reason for listing:
The auto industry is a pillar industry for China's high-quality development, and an important practitioner and contributor of major national strategies such as China's "30·60" Decarbonization Goal and sustainable development. In the face of transformation and upgrading and multiple severe challenges, the recovery and resilient development of China's auto industry require more companies to uphold the concept of sustainable development, strengthen governance capabilities, and demonstrate externalized value to society and the environment with leading products and services. The release of these two standards is timely, which is of positive significance for promoting the development of social responsibility actions at the industry level, enhancing the overall image of the industry, and supporting and leading the high-quality development of the industry.
About the "2022 Top 10 CSR Events in China"
As an annual record of the CSR policies and practices, China Sustainability Tribune has been selecting and publishing the annual list of top ten CSR events for 17 years since 2006.
In order to ensure a more comprehensive, accurate, open and transparent selection, we seek opinions from external experts from governments, companies, universities and research institutions in the field of CSR to ensure the professionalism, authority and transparency.
Experts participating in the selection of the "2022 Top 10 CSR Events in China" and putting forward opinions and suggestions include:
· Guo Xiuming, former Associate Counsel, Department of Policies, Laws and Regulations, Ministry of Industry and Information Technology
· Xia Guang, former National Ecological and Environmental Protection Inspector of the Ministry of Ecology and Environment, former Director and Researcher of the Policy Research Center of the Ministry of Environmental Protection
· Chen Yuanqiao, Researcher at China National Institute of Standardization
· Zhai Qi, Managing Director of China Business Council for Sustainable Development (CBCSD)
· Cheng Duosheng, former Director of Innovation Working Department of Chinese Enterprises Federation
· Han Bin, Deputy Director of the Employer Work Department of the China Enterprise Confederation, former Executive Secretary-General of UN Global Compact Network China
· Liang Xiaohui, Chief Researcher of Social Responsibility Office, China National Textile and Apparel Council
· Prof. Qian Xiaojun, Associate Dean of Academics at Schwarzman College, Director of Research Center for Green Economy and Sustainable Development, Tsinghua University
· Cui Shengxiang, Professor, China University of Labor Relations
· Xue Dayuan, Professor and Doctoral Supervisor of Minzu University of China
· Li Li, Professor of the University of International Business and Economics, Expert of the Beijing 2022 Winter Olympics Sustainability Advisory Committee
· Guo Yi, Professor of School of Economics, and Director of Business Environment Research Center,Beijing Technology and Business University (BTBU)
· Zhou Weizhong, Professor of Business School, and Director at China Enterprise Research Center, Central University of Finance and Economics
· Yu Zhihong, President and Editor-in-Chief of China Sustainability Tribune
· Yin Gefei, Chief Expert of GoldenBee Thinktank; Deputy Secretary General of ISO 26000 Stakeholder Global Network (SGN)
· Guan Zhusun, Executive Dean of Huazhong University of Science and Technology-GoldenBee CSR Research Institute
Thanks to experts who participated in the selection of "2022 Top 10 CSR Events in China".