GoldenBee CSR Report Honor Roll 2015 unveiled
source:goldencsr &nbsp&nbsp date:2015-12-22 14:33:48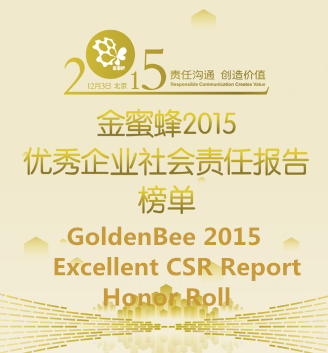 The Eighth International Conference on CSR Reporting in China was held in Beijing on December 3, 2015. During the conference, GoldenBee CSR Report Honor Roll 2015 was unveiled.
With the professional support from GoldenBee CSR Consulting, this conference was organized by China WTO Tribune and China Business Council for Sustainable Development and co-organized by Embassy of Sweden in China and GIZ. Over 300 representatives from domestic and international government agencies, enterprises, industry associations and research institutes have attended the conference.
At the conference, China WTO Tribune released the "GoldenBee CSR Report Honor Roll 2015". Having evaluated and analyzed 1,755 social responsibility reports out of 2,265 released in mainland China in the last 10 months, 62 excellent social responsibility reports outstood. The enterprises were awarded in seven categories, including "Leading Enterprises", "Growing Enterprises", "Special Award for Foreign Invested and HK,Macao and Taiwan Invested Enterprises", "Evergreen Enterprises" and so forth.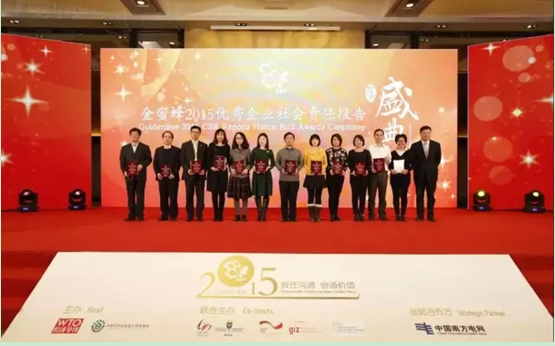 GoldenBee CSR Report Honor Roll·Leading Enterprises

To promote the continuous development of CSR report in China and help Chinese enterprises release high-quality social responsibility reports to create greater values, China WTO Tribune has released GoldenBee CSR Report Honor Roll for 7 consecutive years. By far over 8,000 reports have been evaluated and more than 190 enterprises have been listed on the honor roll, which has provided a comprehensive and professional exhibition platform for excellent CSR reports and the enterprises.
GoldenBee 2015 Excellent CSR Report Honor Roll
Leading Enterprise
China Resources Social Responsibility Report 2014
China National Chemical Corporation Sustainability Report 2014
CGN Corporate Social Responsibility Report 2014
China Merchants Group Social Responsibility Report 2014
China Telecom CSR Report 2014
China Energy Conservation and Environmental Protection Group CSR Report 2014
China Shipping (Group) Company Corporate Social Responsibility Report 2014
ICBC Corporate Social Responsibility Report 2014
China North Industries Group Corporation Corporate Social Responsibility Report 2014
COFCO CSR Report 2014
China Electronics Corporation Corporate Social Responsibility Report 2014
Baosteel CSR Report 2014
Growing Enterprises
Cheezheng Tibetan Medicine Social Responsibility Report 2014
Huafon Group Social Responsibility Report 2014
Shenzhen Gas Social Responsibility Report 2014
Shanghai Yimin Commercial Group Sustainability Report 2014
Hua Yan Water Corporate Social Responsibility
Evergreen Award
Huawei 2014 Sustainability Report
WISCO 2014 Social Responsibility Report
Shenhua Group Corporation Limited 2014 CSR Report
China Three Gorges Corporation 2014 Social Responsibility Report
China Yangtze Power Co., Ltd. Corporate Social Responsibility Report 2014
Aluminum Corporation of China Corporate Social Responsibility Report 2014
SINOCHEM Group 2014 Sustainable Development Report
Eaton 2014-2015 Sustainability Report – China
Infinitus 2014 Corporate Social Responsibility Report
China Southern Power Grid Corporate Social Responsibility Report 2014
State Grid Corporation of China Corporate Social Responsibility Report 2014
CNPC 2014 CSR Report
BASF in Greater China Report 2014
China Huadian Corporation 2014 Social Responsibility Report
China Minmetals Sustainability Report 2014
Sony (China) Corporate Social Responsibility Report 2015
Daimler China Sustainability Report 2014
Air China 2014 Corporate Social Responsibility Report
Suning Corporate Social Responsibility Report 2014
China State Construction Engineering Corporation Limited Sustainability Report 2014
China Huaneng Group Sustainability Report 2014
SINOPEC 2014 Corporate Social Responsibility Report
China Mobile Communications Corporation 2014 Sustainability Report
2013-2014 Intel China CSR Report
Special Award for Foreign Invested and HK, Macao and Taiwan Invested Enterprises
Shui On Land CSR Report 2014
Mary Kay China Sustainability Report 2014
Canon (China) CSR Report(2014-2015)
China Panasonic Sustainability Report 2014
LG Chem China CSR Report 2014
Sanofi (China) CSR Report 2014
Asia Symbol Sustainability Report 2013-2014
Special Award for Employee Care
Guangxi Liugong Group CSR Report 2014
Shaanxi Coal and Chemical Industry Group CSR Report 2014
Special Award for Customer Focus
China CITIC Bank Corporation Limited 2014 Social Responsibility Report
Guizhou Power Grid Corporation Social Responsibility Practice 2014
Special Award for Environmental Protection
Beijing Enterprises Group Company Limited Social Responsibility Report 2014
China National Nuclear Power CSR Report 2014
Special Award for Social Development
China National Travel Service (HK) Group Corporation CSR Report 2014
China National Machinery Industry Corporation CSR Report 2014
Innovation Report Award
China Minmetals Sustainability Report 2014
Guangzhou Yuexiu Holding Limited CSR Report 2014
First Report Award
Chongqing Gas Corporate Social Responsibility Report 2014
Guangzhou Metro Corporate Social Responsibility Report 2014
Special Award for Supplier Focus
SanDisk Semiconductor (Shanghai) Corporate Social Responsibility Report 2014
China Resources C'estbon Beverage (China) CSR Report 2014