The 11th International CSR Forum held in Beijing
source:goldencsr &nbsp&nbsp date:2016-06-23 18:29:17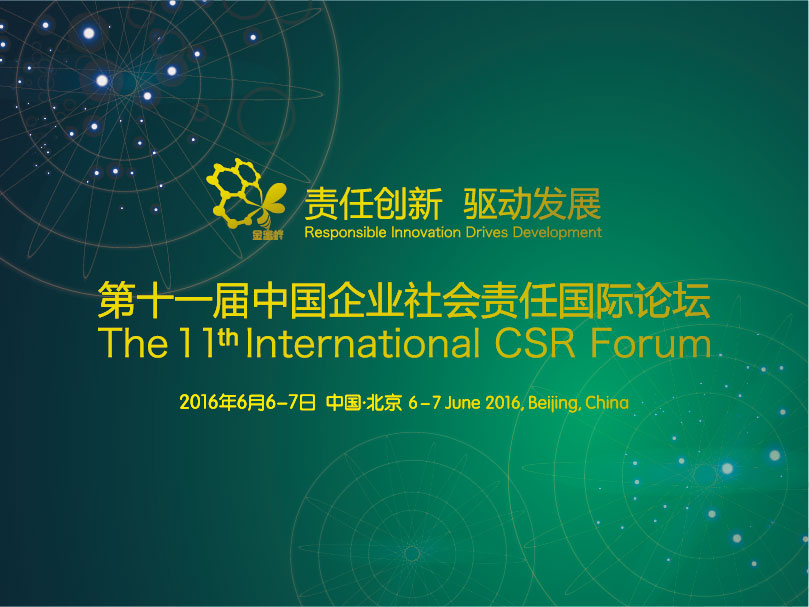 On June 6-7, 2016, The 11th International CSR Forum and The Award Ceremony of "2015 GoldenBee CSR China Honor Roll" was held in Beijing.
With the professional support from GoldenBee CSR Consulting, this forum was hosted by China WTO Tribune and co-hosted by CSR Europe, Society for Human Resource Management (SHRM), Council for Better Corporate Citizenship (CBCC), Foreign Trade Association (FTA), Deutsche Gesellschaft für Internationale Zusammenarbeit (GIZ), UNICEF and Embassy of Sweden in Beijing.
Themed with "Responsible Innovation Drives Development", the forum provided a platform for CSR experts, influential entrepreneurs and CSR professionals to discuss the CSR development in China and the world, and share their strategic thinking in promoting social responsibility value based on enterprises practices. More than 600 participants from domestic and international government agencies, industry associations, enterprises, and research institutes attended this forum.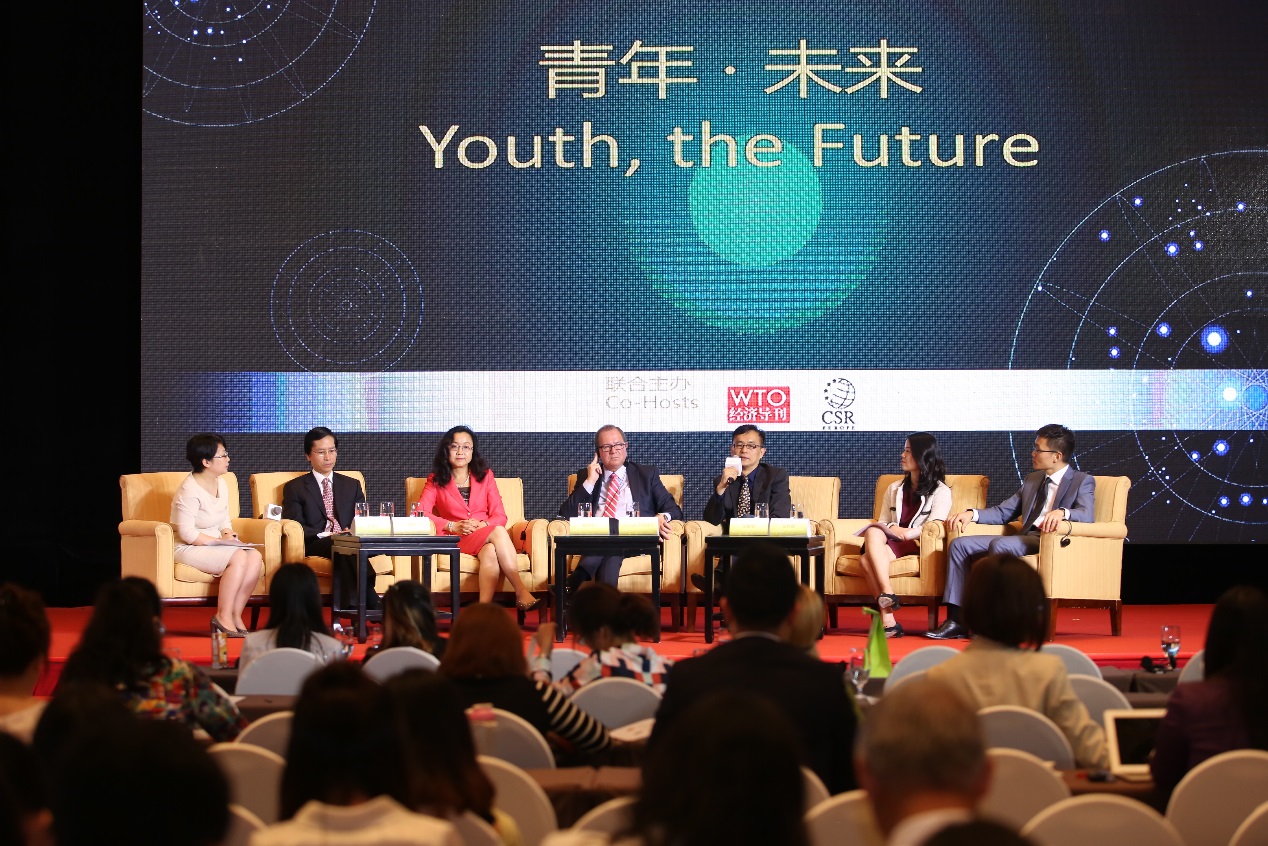 The panel discussion in the Youth, the Future panel
Highlighting the current hotspot social responsibility issues, the forum set up 10 panels for speakers and participants, namely,

Sustainable Return on Investments: Re-defining the value of Investments

CSR and Children's Rights Protection

The 14th Sino-European CSR Round Table Forum ― COP 21 & the 13th Five Year Plan Bring Sustainable Supply Chain

Biodiversity and Sustainable Development

Embedding Human Rights in Business

Youth, the Future

Collaborative Innovation Addresses Challenges in Urban Development

Energy Challenges in Sustainable Urban Development

CSR and Public Transparency

"GoldenBee Enterprises" and Best Practices of Responsible Competitiveness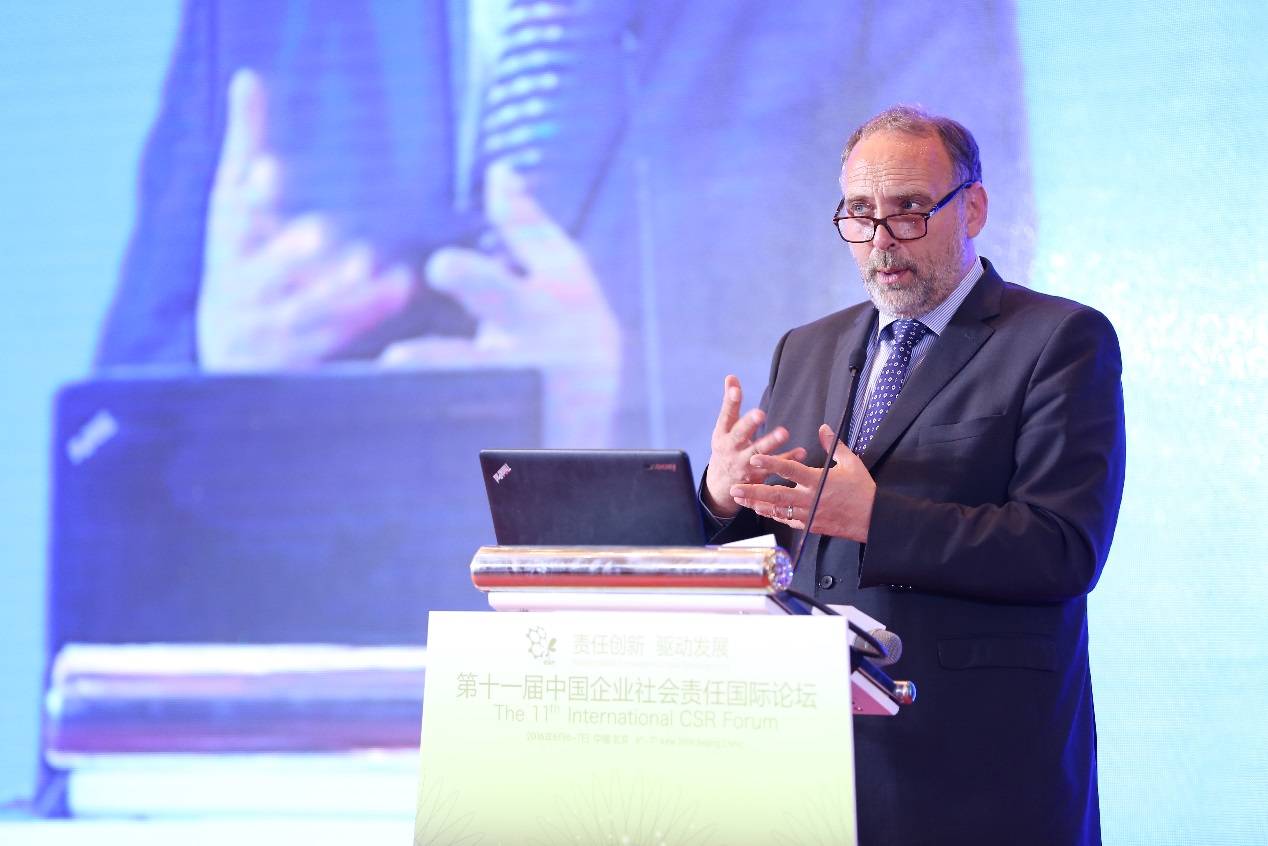 Mr. Stefan Crets, Executive Director of CSR Europe, delivered keynote speech in the forum
In the forum, Mr. Yin Gefei, Vice President of China WTO Tribune, introduced the latest development trend of CSR in China, Mr. Stefan Crets, Executive Director of CSR Europe, Mr. Patrick Ran, Director and General Manager of SHRM China, and Mr. Masao Seki, Steering Committee Chairman of CBCC, delivered speeches on the latest CSR development in Europe, America and Japan respectively. Meanwhile, Lars Nybom, Program Manager of VINNOVA -- Swedish Governmental Agency for Innovation Systems, shared Swedish government's experience in promoting innovation of sustainable business.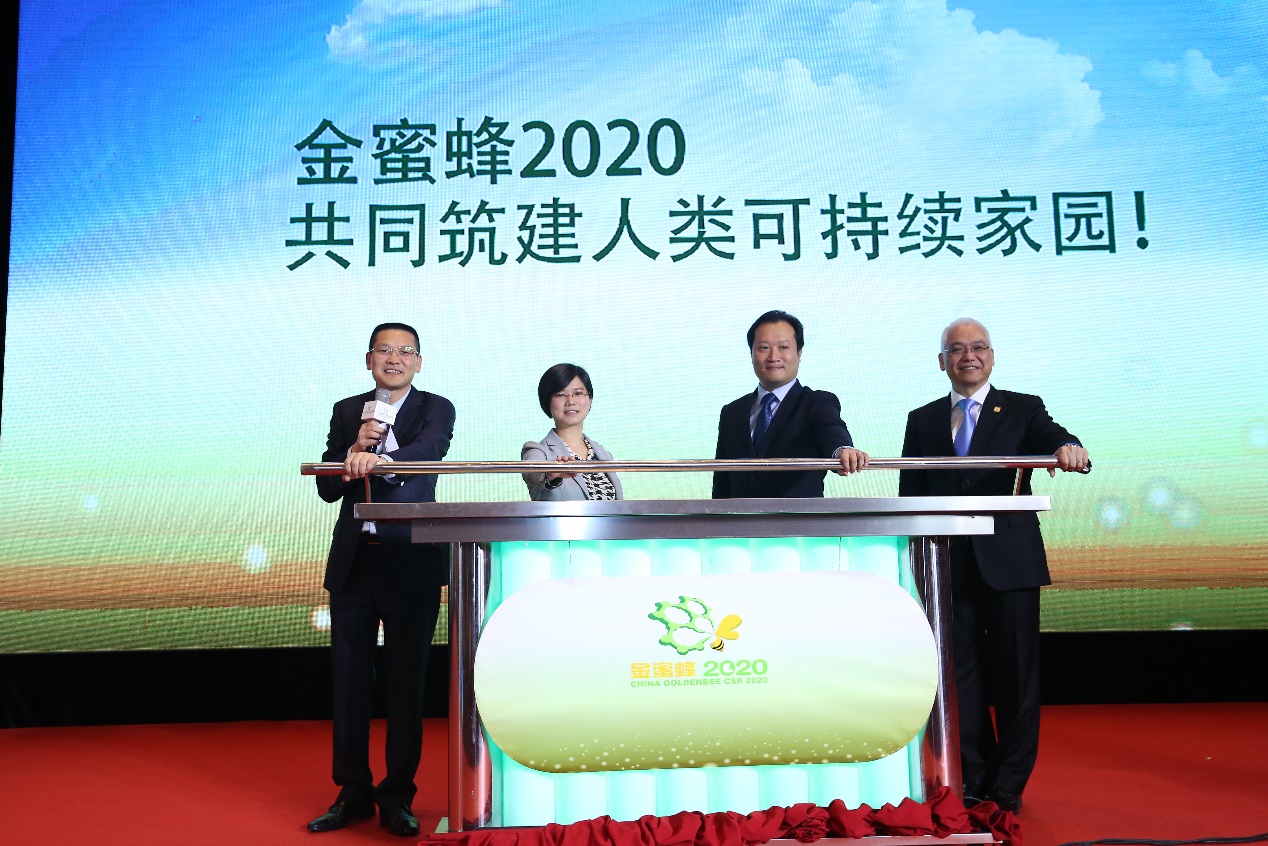 Two new initiators joined the China GoldenBee CSR 2020 Initiative
In the "China GoldenBee CSR 2020 Initiative" Launching Ceremony, Beijing Enterprises Group Company Limited initiated a new low carbon initiative, while Guangzhou MBS Environmental Technology Corporation launched a project concerning sustainable cities. By far, 17 enterprises have initiated a number of issues including innovation, low carbon, supply chain, water resources, community, informatization, energy efficiency management, agriculture, inclusive growth, employee, inclusive credit, active aging, and sustainable cities.
In 2011, China WTO Tribune worked with 11 enterprises to launch China GoldenBee CSR 2020 Initiative, the very first CSR action plan in China. For 6 years, China GoldenBee CSR 2020 Initiative continued to absorbed new members and has been a significant platform for CSR concept promotion, leading CSR practices in China towards a more systematic, in-depth, and effective new phase.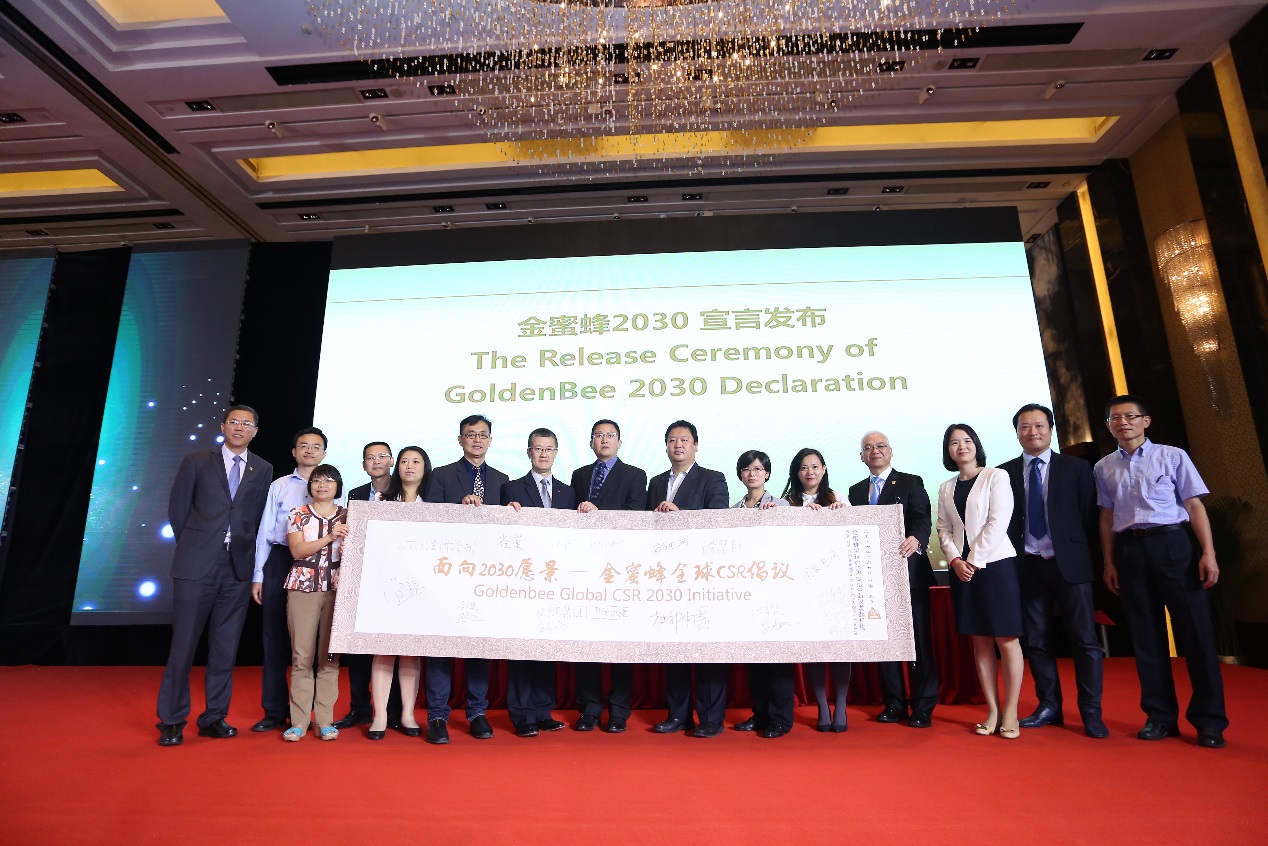 Members of GoldenBee CSR 2030 Declaration
To respond to United Nations 2030 Agenda for Sustainable Development, China WTO Tribune, together with State Grid Corporation of China, China Southern Power Grid, Intel (China), DuPont China, Eaton China, CreditEase, Guangxi Yuchai Machinery Group, Beijing Enterprises Group, MBS, Nestle, Fosun Pharma, and Global Compact Network China launched GoldenBee CSR 2030 Declaration. The declaration focuses on common vision, responsible competition, collaborative innovation and shared value, and will contribute to a more sustainable world.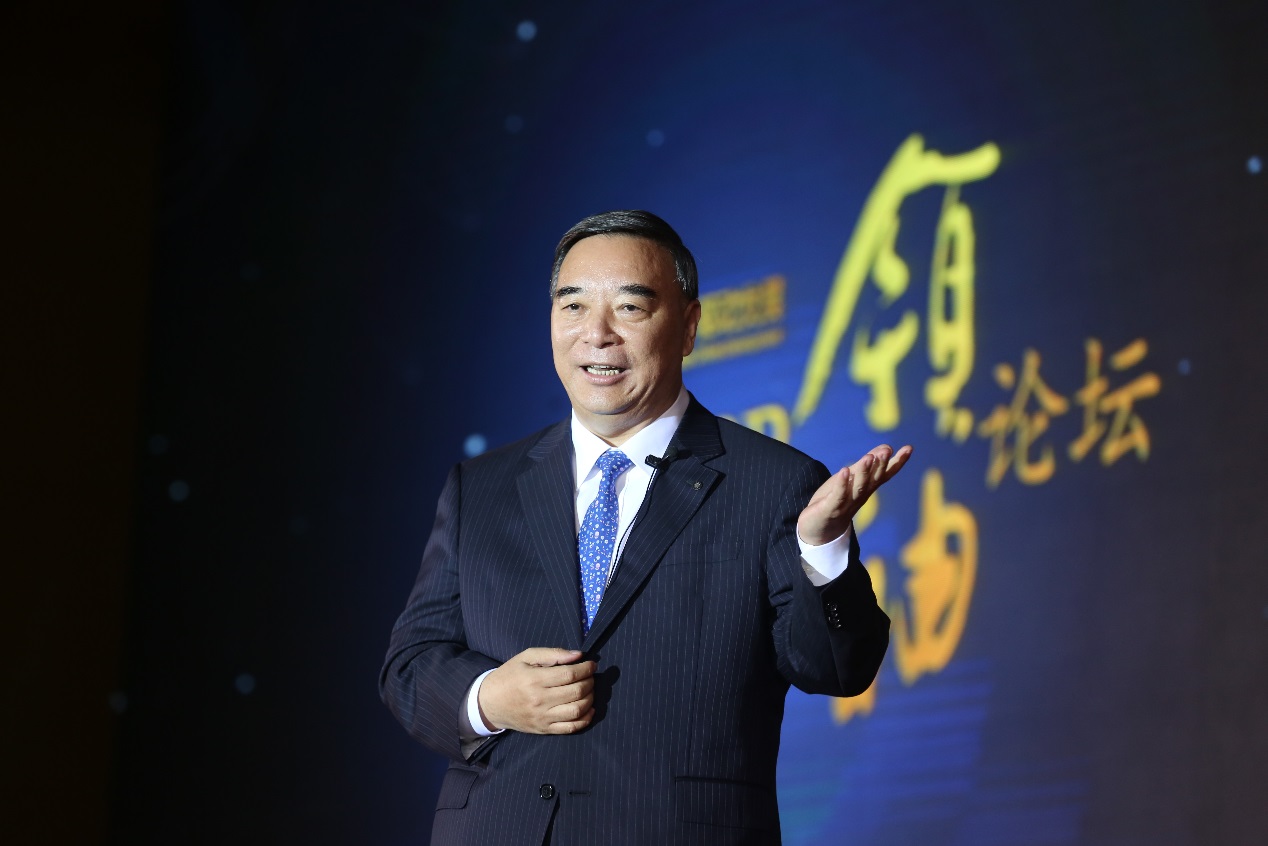 Mr. Song Zhiping, Chairman of China National Building Materials Group Corporation (CNBM),in the GoldenBee CSR Leadership Summit
One of the highlights in the forum is GoldenBee CSR Leadership Summit, an ideological banquet on CSR and sustainable development. In this summit, Stefan Crets, Executive Director of CSR Europe, Song Zhiping, Chairman of China National Building Materials Group Corporation (CNBM), Chien Mingcheng, CEO of LANXESS Greater China and Zhang Weiliang, Operation President of HNA Group gave the keynote speech respectively.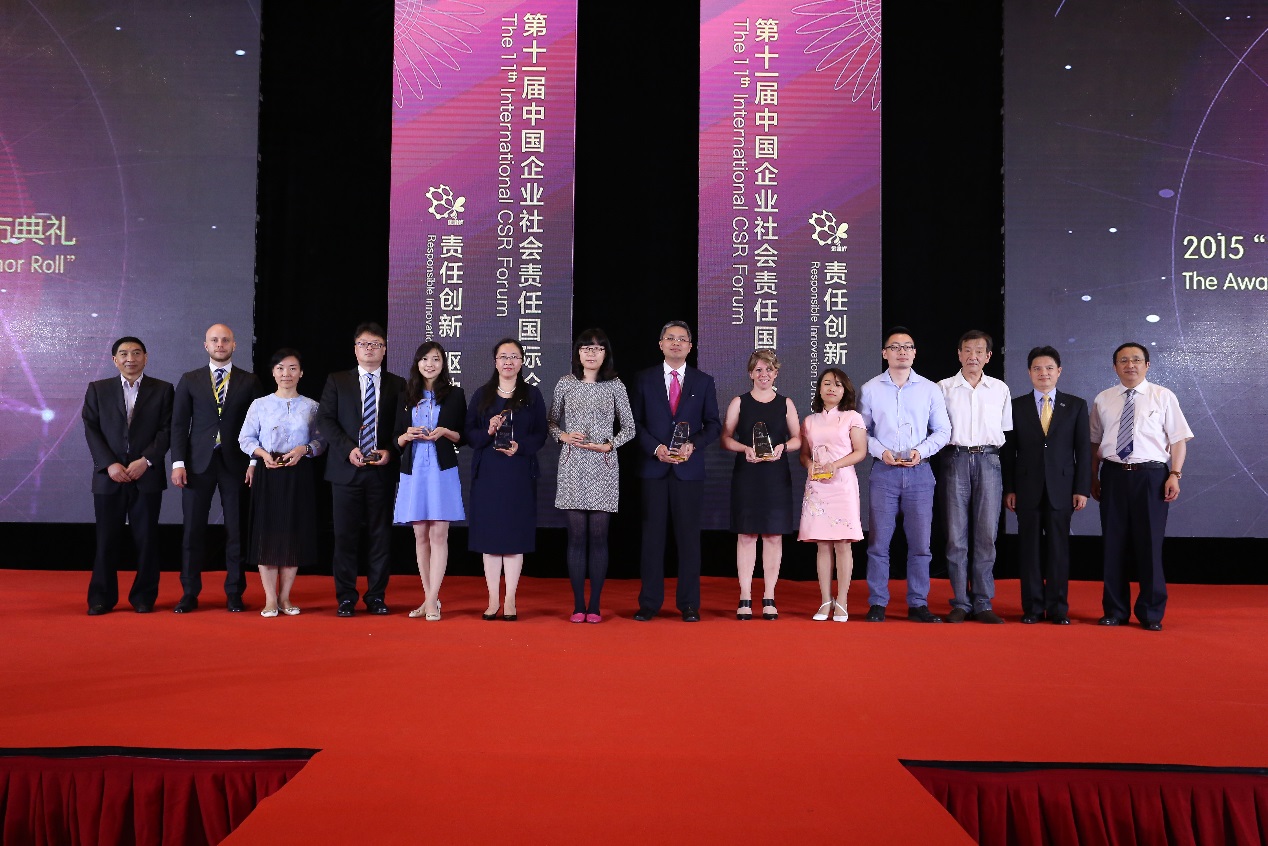 Representatives of awarded GoldenBee Enterprises
At the end of the forum, the 9th "GoldenBee CSR China Honor Roll" was released. By submitting questionnaires and responsible competitiveness practices and after the evaluation of expert committee, 48 enterprises were on the list, including 15 GoldenBee Enterprises of previous years and 33 new GoldenBee Enterprises, and became the models for enterprises' CSR performance.
In the future, GoldenBee will continue its efforts to promote CSR in China. We welcome everyone that shares the common aspiration to join us and make contributions to CSR development in China.
For more detailed information on the forum, please see our follow-up stories in GoldenBee Wechat.