GoldenBee Index on CSR Reporting in China (2009-2014)
source: &nbsp&nbsp date:2015-10-23 10:49:49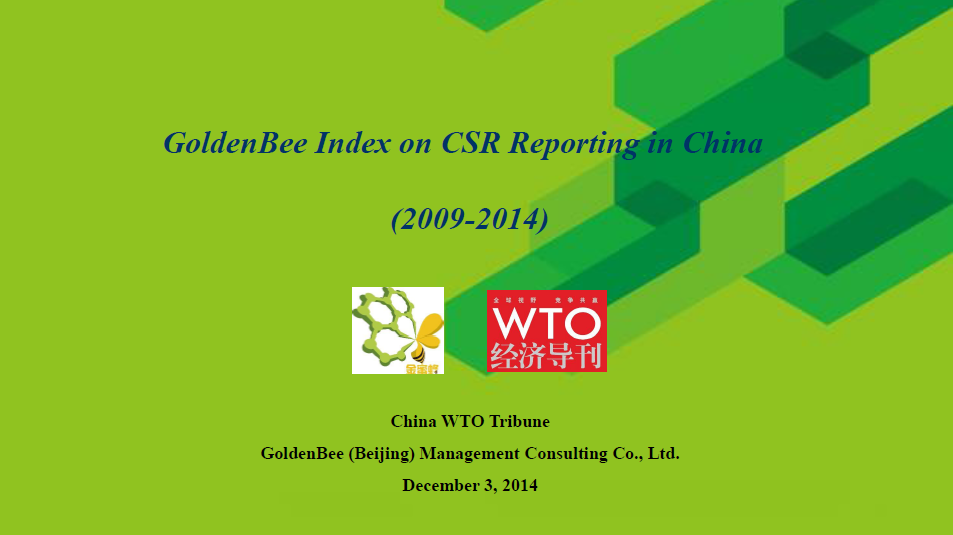 Since 2009, China WTO Tribune, with the professional assistance of GoldenBee (Beijing) Management Consulting Co., Ltd., has started the process to build a dynamic database on CSR reporting in China through the collection, statistics, classification, and research of various social responsibility reports released in Chinese mainland. Up to now, we have collected 8,848 social responsibility reports and assessed 5,574 of them. In accordance with GoldenBee CSR Report Assessment System, we have compiled a series of research reports successively. Apart from the annual GoldenBee Research on Corporate Social Responsibility Reporting in China, we have compiled Research on Social Responsibility Report of Foreign-invested Enterprises in China (2002-2010) and GoldenBee Research on Social Responsibility Report of Non-business Organizations in China (2006-2012) in 2011 and 2012 respectively. In 2013, we published 7 special reports for mining, power, auto manufacture, ICT, banking, non-business organizations and other industries. In 2014, the number of special reports increased to 10 with the newly-added reports for construction, real estate industries and foreign-invested enterprisesin China.
Based on the analysis of GoldenBee Research on Corporate Social Responsibility Reporting in China of the past five years and the stocktaking of related data, we compiled GoldenBee Index on CSR Reporting in China (2009-2014) in 2014, the first one in China, in hope to present you with a complete picture of the development, features and trends of CSR reporting in China. Our major findings include:
Due to the growing number of non-business organizations releasing social responsibility reports and the lack of industry classification in our assessment system, our research results have a few limitations. However, we still hope our report can help the public to understand the current state of CSR reporting in China and play its trends; provide Chinese businesses with a reference for higher-quality social responsibility reports; and offer a new communication tool between them.
More content of the report, please see:

20150327163944406.pdf