GoldenBee Research on CSR Report of Chinese ICT Industry in China 2014
source: Sino-Swedish CSR Website &nbsp&nbsp date:2015-10-23 11:22:41
Information and communications technology (ICT) is the common name of information technology (IT) and Communications technology (CT).
By October 23, 2014, we collected 61 copies of CSR reports released by ICT enterprises through their submission, downloading from their website, network searching and other channels. We evaluated them in accordance with GoldenBee CSR Report Evaluation System 2014. Besides, we gave a general description of these reports, comparing, analyzing and evaluating their overall quality and summarizing their characteristics on the basis of reporting parameters and in connection with our experience in preparing and consulting of CSR reports. On this basis, we made relevant recommendation.
The overview of CSR reports of ICT enterprises in 2014
61 By October 23, 2014, ICT enterprises have totally released 61 social responsibility reports, which are ahead of other industries.
80.3% 33 enterprises have published their CSR report for more than five consecutive years, which account the biggest ratio of the total enterprises to release CSR report, 54.1%. The enterprises who have released reports for four years ranks the second, accounting for 26.2%. Both of them totally accounts for 80.3%.
31.3% In terms of the report length, the report with11-30 pages and over 50 pages rank first, respectively accounting for 31.3%. The reports with over 51 pages only account for 26%. Reports of ICT enterprises reveal a large amount of information.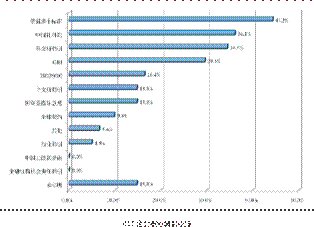 44.3% 44.3% of the ICT corporate social responsibility reports mainly take reference to Guidelines on Corporate Social Responsibility Reporting for Chinese Enterprises(CASS-CSR1.0/2.0/3.0) issued by Chinese Academy of Social Sciences, Guidelines on Social Responsibility of Listed Companies issued by Shenzhen Stock Exchange, and Sustainability Reporting Guidelines(G3/G3.1)from Global Reporting Initiative (GRI). Some ICT enterprises have started to explore and refer to Sustainability Reporting Guidelines (G4) of GRI to compile their reports.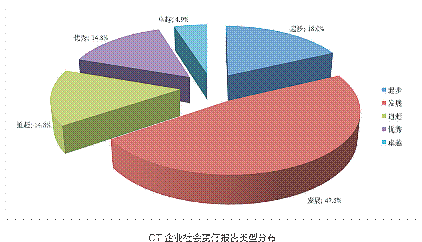 34.4% the private enterprises account for 34.4% among the enterprises who released CSR report and the number is 21. This ratio exceeded the ration of state-owned holding enterprises for the first time, becoming the largest publishers of CSR report.18 state-owned and state holding enterprises are still important publishers, accounting for 47.5%. The majority of 21 private enterprises are high-tech enterprises, including 18 enterprises who have released CSR report more than four times.
80.3% 80.3% ICT enterprises release corporate social responsibility reports in Chinese. 19.7% ICT enterprises who release reports in Chinese and English have businesses at home and abroad, such as IBM China, Intel China.
8.2% In this study, five reports were reviewed and verified by the third-party professional organizations, accounting for 8.2%, but it is still at a low level.
Judging the overall quality of CSR reports of ICT enterprises in 2014
On the basis of scores, we divided these reports into five levels: infancy, development, upswing, excellence, and outstanding. The average score of the reports is 55.71, which is in development stage. 4.9% reports reached outstanding stage; 14.8% reports with high disclosure level are in excellent stage. Most of the reports are still in the infancy and development stage, and their quality still has much room for improvement.
ICT CSRS Report has significant advantages in innovation, readability and credibility. In response to market changes, ICT enterprises formed technology and product innovation vitality and such innovative genes were extended in reports writing, which contributed effectively to the innovation of ICT CSR report. The readability benefited from report writers' thinking, analytical and writing ability. The improvement of comprehensive quality of writers plays a fundamental role in reports quality, effectively promoting their readability. Most of reports can be expressed neutrally and objectively, and is available for stakeholders to make evaluations. But the materiality and comparability of ICT CSR Reports are slightly lower than the overall level. Their ability in disclosure of relevant stakeholders and the industry comparisons of key performance still need to be strengthened.
Our Findings
Finding I: technological innovation has become the focus of ICT enterprises
Finding II: social innovation has been valued by ICT enterprises
Finding III: deepen and enrich concept and content of social responsibility
Finding VI: using ICT industry characteristics to practice social responsibility
Finding V: in line with the principle of sustainable development has become an important aspect of the report
Finding VI: ICT enterprises pay attention to supply chain management
Our Advices:
First: to improve correlation of disclosure of community issues and industry features
Second: to reveal negative news objectively, and enhance the credibility of reports
Third: to build a responsibility-sharing platform, and spread social responsibility concept
Forth: to promote social responsibility information disclosure innovation with social responsibility management and innovative practice.