Chief Expert of GoldenBee CSR Consulting Attends ISO 26000 Conference in Stockholm
source:goldencsr &nbsp&nbsp date:2016-01-07 12:29:48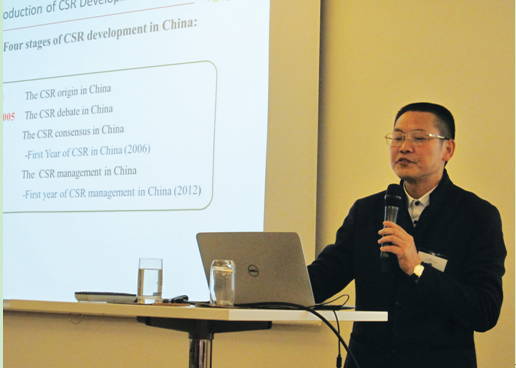 From October 20 to 21, 2015, Gefei YIN, Chief Expert of GoldenBee CSR Consulting and member of ISO 26000 PPO (Post Publication Organization), attended ISO 26000 conference organized by Swedish Standards Institute in Stockholm. He discussed the training situations and new version modification of ISO 26000 in China, and introduced its application in China as well as Chinese National Standard of Social Responsibility GB/T 36000.
【About ISO 26000】
What is ISO 26000?
On November 1, 2010, ISO officially released ISO 26000:2010, Guidance on social responsibility (ISO 26000), the first global standard in social responsibility field. Though it is just a voluntary and non-certified standard, it has experienced tremendous changes. From ISO 9000 to ISO 14000 and later ISO 26000, it shifted its focus from quality management to environmental management and to social responsibility management. This marks its organizational management mode has entered a new era of comprehensive responsibility management.
What is ISO 26000 PPO then? First we should get to know the compilation of ISO 26000…
Over 400 experts from more than 90 countries, including China, have made joint efforts in the compilation of ISO 26000. Member countries of ISO have conducted 3 rounds of votes in terms of standard compilation with the last round involving 77 member countries. As a member of Chinese expert group in ISO 26000 research group, Gefei YIN was also engaged in the compilation process.
After the compilation, PPO, consisting of core members of the expert group provided follow-up professional support for ISO 26000,such as application, revision and training. PPO is divided into PPO SAG (PPO Strategic Advisory Group) and PPONIN (PPO National Standards Bodies Information Network).
In September, 2014, members of PPO set up three ad hoc groups, namely "BUT" (Basic Unified Training) group, "LID" (Linkage International Documents) group and "FUR" (Possible Areas for Future Revision) group. Gefei YIN participated in "BUT" group and "FUR" group.
"BUT" group (members from PPO, PPO SAG and PPO NIN) provides professional support for ISO 26000 training, tries to develop training PPT or other materials and joins in the discussion on how to ensure quality training.
"BUT" group (members from PPO and PPO SAG) conduct research on the correlative issues between ISO 26000 and related international documents. Currently correlative documents of ISO 26000 and GRI G4 have been released, and later it will also issue the correlative documents of ISO 26000 and other documents, for example, the UN Guiding Principles on Business and Human Rights.
"FUR" group (members of PPO and PPO SAG) is responsible for the research on follow-up revision of ISO 26000.
The Global Application of ISO 26000
According to the research results released by ISO 26000 PPO, 74 countries (64% of them are from developing countries) had actively responded to ISO 26000 by November, 2012.Among the PPO research countries, 44 (59%) have adopted all standards of ISO 26000 as their national standards (at least 64 countries have adopted ISO 26000 if data from other channels are included), 17 (23%) are planning or are in the process of adoption, 13 countries won't adopt or haven't decided whether to adopt ISO 26000. Meanwhile, the research showed that ISO 26000 has been translated into 24 languages within 2 years after its release.
China: ISO 26000 Unify the Consensus and Reshapes Social Responsibility Management Practices
ISO 26000 has initiated Chinese enterprises' brand new recognition of social responsibility. As a result, ISO 26000 has drawn wide attention in China. For example, enterprises have taken their practical experience into consideration and further developed ISO 26000 to improve the management, which has yielded great fruits.
By October, 2014, China has released 8,448 social responsibility reports. Among the 2,240 reports released by the end of October, 2014, 112 have referred to ISO 26000. Many enterprises and institutional organization in China regarded ISO 26000 as the important compilation conformance to compile CSR reports.For instance, in April, 2011, Aluminum Corporation of China (CHINALCO) released its 6th social responsibility report with ISO 26000 as the compilation conformance and adopted 7 core subjects as the framework. In this way, the main body of the report completely covered the subject content of ISO 26000 and demonstrated various characteristics of the corporate social practices so that the CSR performance could be better explored and presented to further achieve the development of social responsibility philosophy.
Japan: Setting National Standard JISZ 26000 Consistent with ISO 26000
In 2004, Japanese Standards Association established ISO/SR National Committee and promoted Japan's contribution to the development of ISO 26000.
In September, 2010, the biggest economic group in Japan—Japan Federation of Economic Organizations absorbed the essence of ISO 26000 and further expanded its influence in Japan in the adaptation of the 6th version of the Company Action Charter.
In March, 2012, Japan referred to ISO 26000 and officially released a new Japanese national social responsibility standard --JISZ 26000.
From November to December, 2013, Keidanren distributed questionnaire among 200 listed companies in Japan. The results showed that over half of the companies adopted ISO 26000 in theiroperation and management.
The Application of ISO 26000 in Other Countries in Asia:
Asian Countries Take Actions to Integrate ISO 26000 into Local Standards
Country

ISO 26000 Development

Thailand

DIW has conducted the CSR-DIW project since 2008 with its aim to promote Thailand's enterprises to perform social responsibility. The project requires enterprises to abide by the seven core subjects of ISO 26000 in their operation and management. Member enterprises will be investigated to see whether they could keep their membership qualification.

The Stock Exchange of Thailand released Guidance on Listing Path for Corporate Social Responsibility to shed light on ISO 26000, and combined Sufficient Economy Philosophy with the seven core social responsibility subjects of ISO 26000. In addition, the Guidance also integrated social responsibility into relevant principles and guidance of other Thai companies. In this way, international standard could fit in the situation of Thailand, help Thai enterprises broaden CSR horizon and provide references for other Asian stock exchanges.

Indonesia

Indonesia takes ISO 26000 as the evaluation criterion for Indonesian CSR Awards. PT Semen Padang, the winner in 2011, regards ISO 26000 as its basis to conduct social responsibility practices.

Singapore

In the statement of Guidance on Sustainability Reporting for Listed Companies, Singapore Exchange Limited appealed listed companies to release sustainability reports, and suggested enterprises take ISO 26000 and GRI as global standard guidance.

Bangladesh

Reed Consulting Bangladesh, a Bangladeshi private consulting company, cooperated with Canadian High Commission and Canada Bangladesh Chamber of Commerce and Industry and released Operational Manual on ISO 26000 jointly.
ISO 26000 Development in Other Asian Countries
Europe
In recent years, ISO 26000 has drawn close attention from European countries. In October, 2011, European Commission noted in the European Corporate Social Responsibility Strategy that all large-scale European enterprises (with over 1,000 employees) should commit to abide by at least one of the following principles by 2014 when conducting social responsibility activities: United Nations Global Compact, OECD Guidelines for Multinational Enterprises and ISO 26000.
| | |
| --- | --- |
| Country | ISO 26000 Development |
| Denmark | Danish Standards Foundation has released revised accreditation standard- DS 49001, which has provided comparison between DS 49001 and ISO 26000, DS 49001 and ISO 14001, DS 49001 and ISO 9001as well as DS 49001 andOHSAS 18001. |
| Austria | Based on ISO 26000, BMLFUW has released Austria's ONR 192500 standard and provided its certification procedure. |
| Netherlands | Netherlands Standardization Institute has released Social Responsibility Performance: Latest Practices and Instruments of ISO 26000, which has presented 9 excellent practical cases of 9 organizations (business or governmental organization) to respond to the growing demand for ISO 26000 at the Geneva Forum in 2012. |
| Sweden | Contractors have become entitled to social and environmental special clauses under the Public Procurement Act. Local government referred to the ISO 26000 draft in the compilation of its standard released in 2007. |
| France | AFNOR Group has released ISO 26000 and reporting credibility (2010). French national sustainable procurement action plan has also referred to SA 8000 and ISO 26000. |
ISO 26000 has drawn wide attention, and more and more countries have translated or adopted ISO 26000, especially for developing countries. ISO 26000 has been widely applied in academic research by academia. Governments also organized trainings and seminars, and set national standards related to social responsibility and ISO 26000. In addition, enterprises have applied ISO 26000 to improve CSR practices. Some consulting institutions and enterprises regard ISO 26000 as the certification standard, while some countries (such as France, Denmark and Brazil) have launched accreditation management system. As a non-mandatory and non-certified guiding standard, ISO 26000 will play an even more important role in the future as long as we make joint efforts and experience exchange.