Download the Sino-Swedish CSR Toolkit
source:Embassy of Swedem &nbsp&nbsp date:2015-05-04 21:50:57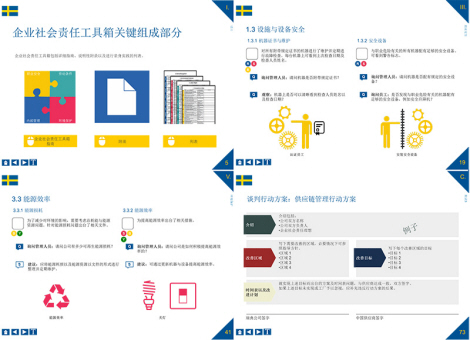 CSR-toolkit-ChnCSR TOOLKIT PHOTO: EMBASSY OF SWEDEN
A new toolkit focused on Corporate Social Responsibility (CSR) for Sino-Swedish supply chains is now available for download at the Embassy website. It contains guidelines, checklists and advice on CSR practices in both English and Chinese.
The new CSR Toolkit has been developed jointly by Business Sweden and the CSR Centre of the Embassy of Sweden in Beijing. It is primarily intended for small and medium sized enterprises (SMEs) and their suppliers.
Available in English and Chinese, it provides hands-on tools for Swedish companies and their suppliers to integrate corporate social responsibility (CSR) into their business operations in China.
The Toolkit includes guidelines, checklists and evaluation advices on important areas such as occupational safety, labour conditions, environmental performance and internal management. It is user-friendly and easy to follow for operational purposes and does not require any previous knowledge.