Daimler China Sustainability Report 2013 submitted by GoldenBee won the International ARC Award
source:goldencsr &nbsp&nbsp date:2015-10-10 15:51:20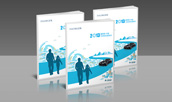 International ARC Awards, known as "Academy Awards of Annual Reports", was released at the end of August. Submitted by GoldenBee, Daimler China Sustainability Report 2013 was the Bronze winner in "Non-English Annual Reports" category. This has been the only prize-winning work in global automotive industry in the category.
Established in 1987, International ARC Awards is the largest-scale competition to honor the global excellent annual reports.
Famous for its "impartiality, independence, transparency and authority", International ARC Awards has been known as "Academy Awards of Annual Reports" by financial media. The judging panel consists of investor relations experts, financial experts, writers, designers and photographers from over 90 institutions and enterprises. Thefollowing items will be judged:the cover design, chairman's statement, internal page design, professional levelof the content, photography, presentation skills ofenterprise key information, financial data statement, enterprise spirit statement and so forth. Able to bedisseminatedeffectively, the awarded work has to be creative and transparent with overall good performance.
The 2015 award selection has attracted over 2,000 enterprises, non-profit institutions, government agencies and other organizations, many of which are well-known transnational enterprises.
GoldenBee project team has assisted Daimler China to compile this report.
For more information, please click:
http://www.mercommawards.com/arc/awardWinners/categoryWinners/nonEnglish.htm#aut