ESG: A Decisive Role in Sustainability
source:goldencsr &nbsp&nbsp date:2022-12-20 13:34:26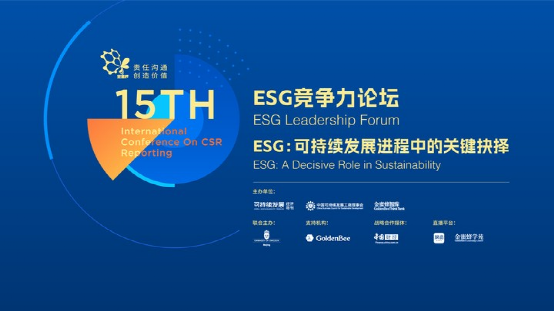 The 15th International Conference on CSR Reporting in China was held on 2 December. Dozens of researchers, practitioners and observers from different sectors were invited to the ESG Breakout Session "ESG: A Decisive Role in Sustainability", jointly discussing the connotation and value of ESG, the relations between ESG and business decisions, and effective pathways and measures for enterprises to enhance their ESG competitiveness. The Forum features exchanges of ideas focusing on three major topics, namely Thoughts on ESG Work of Central SOEs, ESG Competitiveness 2022: China Progress, and ESG and the Construction of Valuation System with Chinese Characteristics, together with three roundtable forums held at the same time on three major topics, namely China's ESG Standardization Process, ESG Ratings and Meaningful Data, and ESG Strategy and System Building.
Chen Weizheng, President of GoldenBee Consulting mentioned in the opening speech that today, in the face of evolving challenges such as climate change, public health and security, more and more enterprises come to know that sound corporate governance with rapid identification and response to environmental and social risks are playing a decisive role in the sustainable development of enterprises. Just like a good reform needs driving forces from the top, effective environmental, social and corporate governance requires the powerful corporate leadership to integrate ESG elements, and ESG is becoming a significant part during the corporate sustainable development. Moreover, it plays a decisive role in sustainability.
Keynote Speech 1: Thoughts on ESG Work of Central SOEs
Zhang Xiaosong, Director of Social Responsibility Division, Bureau of Social Responsibility, SASAC, delivered three major points in his speech on ESG work of central SOEs supervised by the SASAC.
1. ESG represents a trend, and Chinese enterprises shall be more proactive and motivated to implement ESG concepts.
2. Central SOEs supervised by the SASAC are of special importance to develop ESG in China, and in recent years they have made remarkable progress in their ESG work.
3. It is imperative and promising for centrally administered SOEs by the SASAC to further advance and consolidate their ESG work in the coming period.
Keynote Speech 2: ESG Competitiveness 2022: China Progress
Dai Yibo, Vice President of GoldenBee Consulting, Member of Research Working Group of ESG Committee, China Association for Public Companies, made an in-depth interpretation of the ESG Competitiveness 2022: China Progress report.
1. From the breakthrough made in the "issuers" of the reports, listed SOEs, as business leaders in various industries, lead the continuous improvement of ESG information disclosure.
2. From the breakthrough made in the "implementation" of the reports, ESG reports are never the final outcomes and goals, the most important value of ESG report lies in the communications with stakeholders, especially investors.
3. In the management of special topics such as climate change, biodiversity, enterprises in the supply chain invariably adopt globally accepted standards and tools and make concerted actions to achieve coordinated carbon emissions reduction.
Keynote Speech 3:ESG and the Construction of Valuation System with Chinese Characteristics
Yin Gefei, Chief Expert of GoldenBee ThinkTank and Chairman and CEO of Beijing YiBiao Digital Technology Co., Ltd. (OneESG), mentioned that ESG and the Construction of Valuation System with Chinese Characteristics, as the Chairman Yi Huiman of China Securities Regulatory Commission (CSRC) said at Financial Street Forum 2022, shall promote the allocation of market resources and be more conducive to resource allocation.
1. ESG is in line with the construction trend of valuation system with Chinese characteristics. ESG was originated from social responsibilities of financial institutions, taking environmental and social factors into investment and financing. It is the revision and optimization to the current valuation system for the financial and economic value consideration.
2. We believe the monetary accounting of ESG will become the favorable trend for valuation system with Chinese characteristics.
3. From a global perspective, the exploration from TCFD, TNFD to TSFD, that is, the disclosure of financial information in relation with climate change as well as nature, these information disclosure will be useful to the revaluation made by investment and financial institutions.
Yin Gefei proposed that a valuation system with Chinese characteristics to serve Chinese modernization is to integrate E with ESG, that is, to integrate economic value with ESG value, which is the real and new valuation system for sustainable investment.

Roundtable 1: China's ESG Standardization Process
In the first roundtable forum, the Moderator Li Li, Researcher of the Institute of International Economy, UIBE, together with four experts and scholars, namely Xiao Qing, Deputy Secretary-General of the China Biodiversity Conservation and Green Development Foundation (CBCGDF), Shang Shengping, Deputy Director of Department of Strategy and Consulting, China International Contractors Association (CHINCA), Ding Qing, Associate Researcher of the Resource and Environment Branch, China National Institute of Standardization (CNIS) and Coney Ke, Secretary of the Board of Directors, Sinochem International Corporation, discussed on China's ESG standardization process and exchanged their ideas.
Through sharing from their professional perspectives, Li Li summarized that in China's ESG standardization process, firstly we should consider to combine ESG standards with Xi Jinping's thought on ecological progress; secondly, we should respond to the need of Chinese society. China's ESG standardization shall focus on solving urgent problems in current economic and social development of China to reflect Chinese characteristics while aligning with international rules; and thirdly, we should emphasis the linkage, connectivity and harmonization between ESG standards and between ESG standards and other existing relevant standards such as environmental standards.

Roundtable 2: ESG Rating and Meaningful Data
The second roundtable forum was hosted by Dai Yibo, Vice President of GoldenBee Consulting. In the forum, experts including Alexis Rocamora of APAC Lead for Sustainable Investment Research, FTSE Russell of London Stock Exchange Group; Li Fei, Associate China Director at CDP; Zhang Shuyuan, Head of the Department of Sustainable Development of China Shengmu and Su Yingying, Portfolio Manager of Investment Department, Invesco Great Wall shared their opinions on ESG with the audience.
What are valuable, meaningful and quality ESG data?
First, Zhang Shuyuan said that for ESG data, the quality should be high enough to meet the demands of external stakeholders; besides, the data should be in line with enterprises' actual operation conditions and strategies and reflect their development. For enterprises, only the data meeting such standards are worth collecting and managing.
Second, Li Fei mentioned that the data that CDP considers as meaningful or climate-related data should be authentic and comprehensive, and also be able to provide ESG policies for data users.
Third, Alexis rendered a different definition of data quality. He said that meaningful data should be a panorama of the entire value chain of a company, which could reflect how the company deals with issues including cultural diversity and gender equality. Therefore, data quality is a matter of not only the business chain, but also the value chain of an enterprise.
Fourth, Su Yingying, shared her opinions from the perspective of data users. She mentioned five key points deemed as priorities by investors: the accessibility, continuity, authenticity, comparability of data and whether they are in line with the conditions of a nation.
Challenges and problems in using ESG data
First, at present, the most acute problem of ESG data using is the low information disclosure rate. In 2021, its disclosure rate of 1,366 enterprises' CSR reports was less than 30%.
Second, most enterprises have a low rating in the climate change issue of the CDP questionnaire, where the lack of a comprehensive analysis on climate risks and emission impacts is a prominent problem.
Third, enterprises also have difficulties in collecting and analyzing ESG data.

Roundtable 3: ESG Strategy and System Construction
The third session of the forum was hosted by Qian Xiaojun, Deputy Dean of Schwarzman Scholars and Director of Research Center and Professor of the Department of Leadership and Organization Management, Tsinghua University; Ding Jing, Deputy General Manager of China Longyuan Power Group Corporation Limited.; Ni Yidan, Board Secretary of COSCO Shipping Energy Transportation Co., Ltd.; Ma Jinru, Vice President and Board Secretary of Xinjiang Goldwind Science Technology Co., Ltd.; Liu Yanfeng, Director of Department of Corporate Governance of China Association for Public Companies (CAPCO) had a discussion on the topic.
Good practices of enterprises to act upon ESG
First, Liu Yanfeng proposed two points: from the perspective of ESG practice, many public companies, especially the leading enterprises in an industry, have a number of excellent examples based on their experience. They have even surpassed their international counterparts. From the perspective of information disclosure, the number of ESG disclosure over the past decade has been rising steadily, from 565 in 2011 to 1,400 enterprises in 2022.
Second, Ma Jinru shared her opinions based on the Goldwind's experience in ESG strategy and system construction. It has built a sustainable development system in aspects including organization, strategy and management. Besides, Goldwind focuses on five areas when implementing sustainability strategies, namely, honest and compliant business, green and environmentally friendly operation, sustainable wind power industrial chain, fair and healthy environment and harmonious community. It has also set many other goals and strives to have them achieved.
Third, Ni Yidan also shared the excellent examples of COSCO Shipping Energy Transportation Co., Ltd.. She mentioned that it is not effective to stimulate enterprises' ESG performance with the existing rating system for ESG disclosure and rating. Therefore, if an ESG appraisal system similar to that of profit appraisal can be set up, we could foresee a fundamental improvement in ESG governance.
Challenges occurring in acting upon ESG governance and improving ESG performance
First, Ding Jing believed that since ESG has been a concept freshly introduced into China, people will find it hard to fully understand the concept. Therefore, we still have a long way to go before we make ESG recognized among the people in different enterprises and make headway in promoting ESG in a short time.
Second, Ni Yidan also put forward that in China, we lack an ESG appraisal system suitable for local enterprises, and both A-share and H-share listed companies expect the setting up of such a system.
At the end of the forum, guests also shared their opinions on ESG development in the next five to ten years. Liu Yanfeng said that we should focus not only on importing concepts, but also on adapting them to China's national conditions to tell Chinese stories to the world. All segments in society should make efforts to deepen their understanding towards ESG if we expect ESG to take root in China. CAPCO, as a national self-discipline organization for public companies, will, through Research Working Group of ESG Committee, build platforms and coordinate efforts to guide and help their ESG practices. Meanwhile, it will also strengthen self-discipline governance to further promote ESG. Ding Jing also mentioned that she hoped there will be a refined ESG system and that she could join hand in hand with upstream and downstream enterprises to accelerate the sustainable and low-carbon development in the industry. She expected to work with more institutions and stakeholders in society to enable enterprises to make progress in ESG.
This forum was co-hosted by China Sustainability Tribune, China Business Council for Sustainable Development (CBCSD) and GoldenBee Thinktank, and it was supported by GoldenBee Consulting. Finance.China.com.cn, as the strategic cooperation media of the forum, also supported the forum in its broadcasting. The forum was live streamed via three platforms: www.fecn.net, NetEase News and GoldenBee Social Responsibility Education Center, with over 200,000 audience watching.


Scan the QR code to relive the forum.