Quality and value of Chinese corporate sustainability disclosure
source:goldencsr &nbsp&nbsp date:2023-04-14 14:53:58
On April 4, Dai Yibo, Vice President of GoldenBee Consulting, Research Working Group Member of ESG Committee of the China Association for Public Companies (CAPCO), was invited to deliver a keynote speech and moderate a sub-forum on the "Investing in a Sustainable Future" forum. The forum was co-hosted by the Delegation of the European Union, the Embassy of Sweden in Beijing and the Asian Infrastructure Investment Bank (AIIB), with more than 100 participants from international organizations, financial institutions, ESG rating agencies and representatives of Chinese and foreign companies.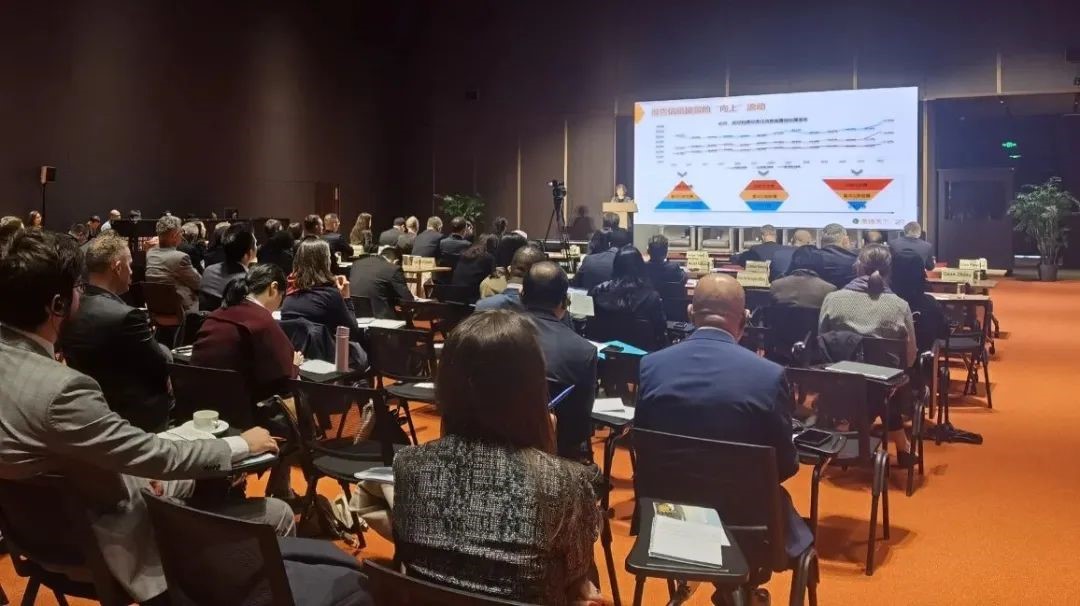 At the beginning, Jorge Toledo, the Ambassador of EU to China; Jin Liqun, President of AIIB; Lennart Nilsson, Counsellor of Economic and Trade, the Embassy of Sweden in Beijing, China; and Erik Berglöf, Chief Economist of the AIIB gave the welcoming remarks.
Hereafter, Dai Yibo presented a keynote speech on "Quality and Value of Chinese Corporate Sustainability Disclosure", the main content of the speech is as follows: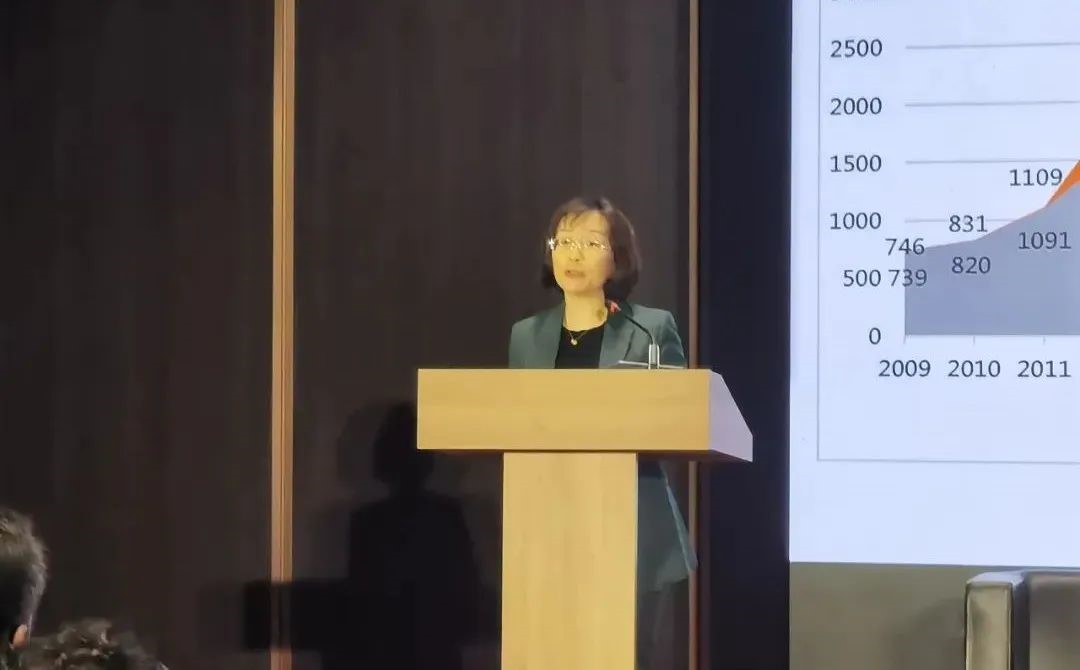 1. Sustainability disclosure has become an inevitable choice for companies striving for excellence

In 2022, 2,842 corporate reports in a total of 2,906 reports were included in the GoldenBee social responsibility report database. The research of GoldenBee Consulting found that the number of CSR reports issued in China has been on the rise in the past decade. About 3,800 companies in total have released CSR reports, according to the annual lists of companies that first released CSR reports between 2001 and 2022. Taking the 929 reports released in 2012 as a sample, it was estimated that these 929 reports should have been updated and announced for 11 times or more if they continued releasing reports. However, only half of the companies, about 460 continued to release reports in 2022.

2. Listed companies are the main publishers of social responsibility reports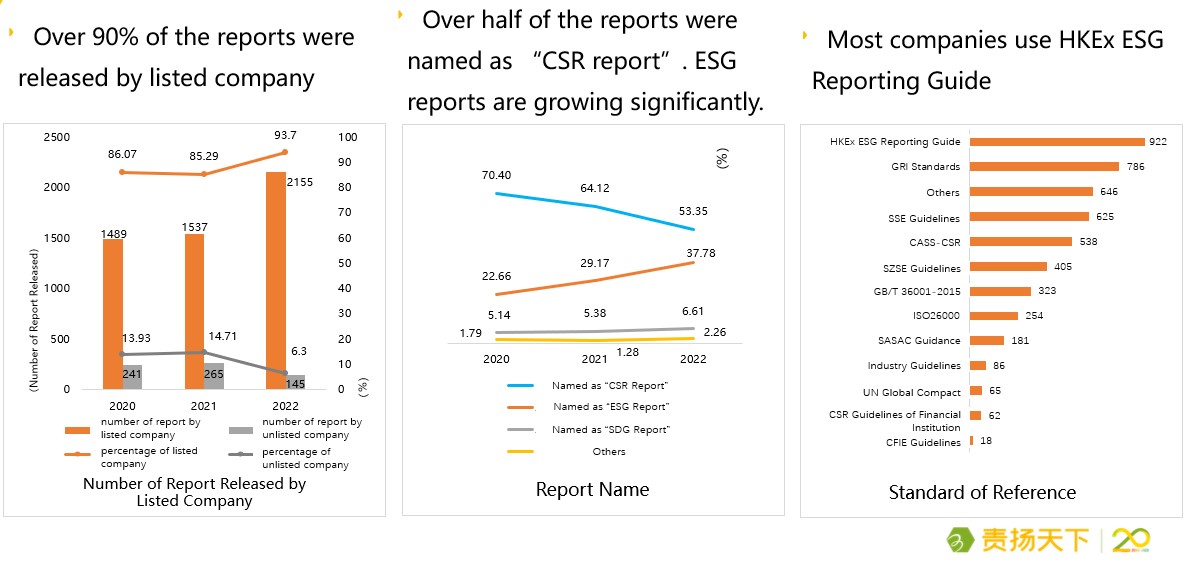 According to the research of GoldenBee Consulting, in 2022, more than 90% of CSR reports were released by listed companies. In terms of the report name, the percentage of reports named as "CSR Report" has been decreasing continuously in the past three years, while that of reports named ESG has increased significantly.

One of the causes could be greatly attributed to the mandatory requirements of Hong Kong Exchange (HKEx) for ESG disclosure on a "comply-or-explain" basis, which have significant binding effects on companies. A statistical analysis for CSR reporting shows that the HKEx ESG Reporting Guide were the most referenced standard for reporting in 2022, accounting for 40% of the total.

3. Constant increase in the data saturation and the timeliness of social responsibility reports

In 2022, more than 70% of corporate reports were over 30 pages. The number and percentage of reports with 51 pages or more achieved three consecutive years of increase. This indicates that companies want the report to be more informative to help investors and other stakeholders to better understand the company.

Meanwhile, over 60% of companies in 2022 released the reports within four months of their fiscal year and an increasing number of companies have released ESG reports at the time of release of annual reports. This demonstrates that companies have enhanced the timeliness of non-financial information disclosure.

4. The report quality has moved from "development" stage to "catch-up" stage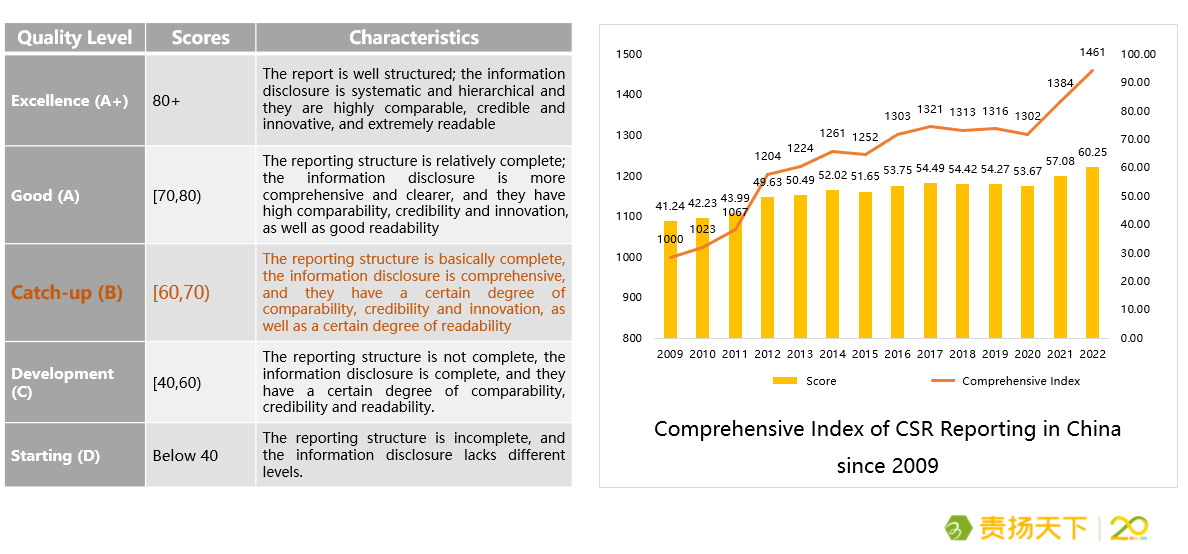 GoldenBee Consulting assessed the quality of content of social responsibility Reports in 2022 which received an average score of 60.25.

This is the first time since 2009 that the assessment score has exceeded 60. This marks that the overall level of CSR reporting in China has moved from the "development" stage to the "catch-up" stage. The proportion of reports scored "good" and "excellence" has increased significantly year-on-year, and those at the "good" level and above has reached 31%.

5. An "upward" trend of information disclosure

GoldenBee Consulting has distinguished the hierarchy of report information disclosure, based on the theory of GoldenBee on the hierarchy of responsibility which contains three levels of responsibility (obligatory, expected and discretional), In 2022, the coverage rates of information disclosure indicators of obligatory responsibility and discretional responsibility are maintained at about 50% and 20% respectively, which is essentially unchanged from a year earlier; the coverage rate of information disclosure indicators of expected responsibility exceeds 40% for the first time.

➤ Compliance and disclosure of obligatory responsibility is at the fundamental level of ESG information which applies to companies in different industries and regions;
➤ The disclosure of material issues of expected responsibility is at the core level of ESG information, showing the companies' perception of key risks and opportunities under the attention of capital market investors. The interpretations of these material issues offer differentiated and distinctive ESG information among industries and companies;
➤ Strategic disclosure of discretional responsibility is at the top level of ESG information hierarchy, demonstrating a company's future capacity of sustainable development and ESG competitiveness.

With the continuous improvement of ESG policies, ESG investment and of ESG management of listed companies, ESG information disclosure is showing an upward trend. The proportion of compliance disclosure in ESG reports is steadily decreasing, while those of disclosure of material ESG issues and strategic disclosure are increasing. More ESG material issues and their implied business risks and opportunities will be identified and managed by companies.

6. Biodiversity disclosure is "surfacing"

The research of GoldenBee Consulting found that the proportion of biodiversity information disclosed by Chinese enterprises in 2022 has increased significantly, and the total amount has continued to increase, but it is still in its infancy overall. Extractive and power industries lead the way in reporting biodiversity data. In the financial industry, the proportion of reports disclosing biodiversity information has grown massively.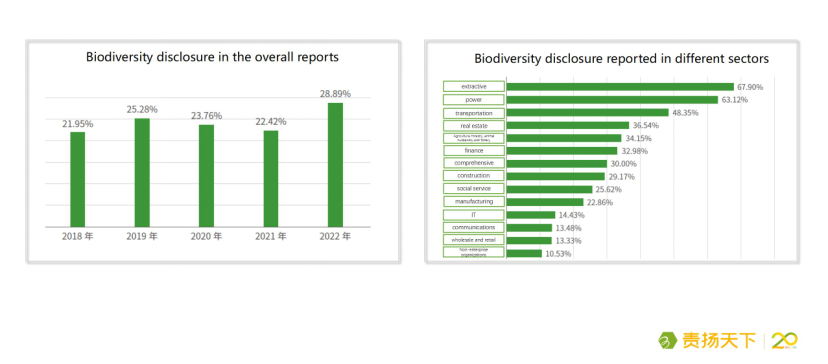 This is partly due to the continuous attention and encouragement of different social groups such as governments, industry associations, and international organizations to play an important guiding role in promoting the participation of enterprises in biodiversity.

In October 2021, the China Banking Association took the lead in launching the Joint Declaration of Banking Sector to Support Biodiversity Conservation. This is in line with the call by the Task Force on Nature-Related Financial Disclosures (TNFD), launched in June 2021, to support a shift in global financial flows away from nature-negative outcomes and toward nature-positive outcomes.

7. Climate disclosure needs to be upgraded from "surface" to the "core"

271 listed companies controlled by central enterprises were selected as sample companies for research, and the analysis was carried out in four dimensions: climate governance, climate strategy, climate risks, goals and indicators.

The sample companies showed that climate change management is still in its infancy, focusing on disclosure of Scope 1, 2 and 3 emission of carbon dioxide, but there is less disclosure of climate governance, climate strategy, climate risk, goals and indicators, and they have not yet presented strategic and systematic climate information disclosure.

Nearly 25% of the sample companies have not yet disclosed information on adaptation to climate change in the report, and only about 10% have carried out systematic climate change management.

It can be said that special climate management has not yet been put on the agenda of enterprises, and they are not ready to move from mitigation to adaption. Climate information disclosure needs to be developed from surface to the core.

8. The quantification of ESG disclosure deepened

GoldenBee Consulting paid special attention to the information disclosure of listed companies, especially the quantitative data disclosure of the most representative environmental and social fields, and conducted a tracking analysis.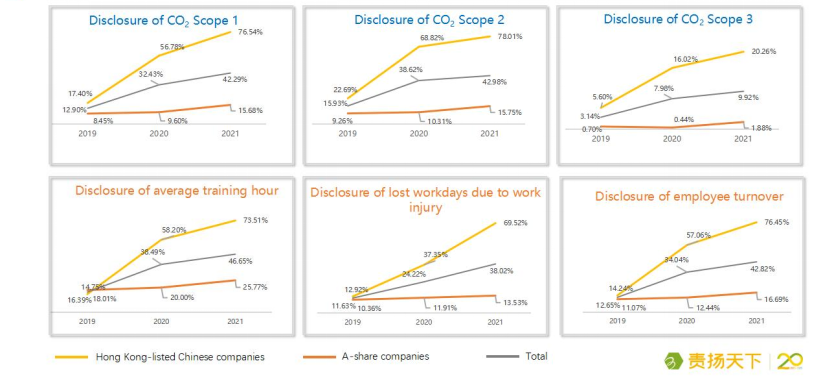 Whether it is carbon dioxide information disclosure, or disclosure related to employee training, work injury, and turnover, there has been a significant increase from 2019 to 2021, and there is no doubt that the quantitative development of such ESG information disclosure is a definite trend.

Hong Kong-listed Chinese companies have a stronger trend than A-share listed companies, which once again proves the driving role of the HKEx ESG Reporting Guide.

9. Application of ESG process information: ESG rating

Overall, the disclosure of sustainability-related information on Chinese companies has made great strides over the past decade, and the report provides increasingly valuable information. More and more third-party rating agencies in the capital market have begun to capture the substantive information in corporate reports to conduct ESG ratings on listed companies.

In this regard, GoldenBee Consulting believes that this is the application of corporate ESG process information, that is, paying attention to the key elements of corporate ESG management disclosed in the report, including the main action measures for enterprises to manage key ESG risks and opportunities.

10. Application of ESG outcome information: monetary accounting of ESG risks and opportunities

GoldenBee Consulting holds that the application of corporate ESG outcome information presented in the report will be an important development direction in the future. The impact of ESG governance, strategies, goals and indicators ultimately needs to be expressed as an ESG outcome, that is, monetary accounting.

In 2008, the "social contribution value per share" proposed by the Shanghai Stock Exchange was an important pioneer exploration. In recent years, we have seen a rapid evolution in disclosure requirements to assess the financial value of sustainability impacts, from climate change-related financial disclosures (TCFD), to nature-related financial disclosures (TNFD), and International Sustainability Standards Board (ISSB) sustainability-related financial disclosures. There are also institutions that are working hard to study more detailed and specific accounting methods for the impact of environmental and social externalization. More and more organizations are beginning to explore the quantitative evaluation of the impact of business behaviors such as products and supply chains on the economy, society and environment, that is, the financialization path of ESG non-financial factors, and build an ESG evaluation model with financialization as the core.

GoldenBee Consulting put forward the concept of ESG-based monetary accounting and ESG net value, accounting for the cost and value of enterprise externalization that is not included in the financial statements, and trying to calculate the true value of the company in ESG.

Around an ESG factor, the net value of an ESG factor is obtained by subtracting the externalized cost from the externalized value, and the net value of various ESG factors is the net ESG value of the enterprise or project, which is equivalent to the sum of the value of the enterprise to various stakeholders. In essence, the real social value that a company ultimately realizes is its financial value plus ESG value.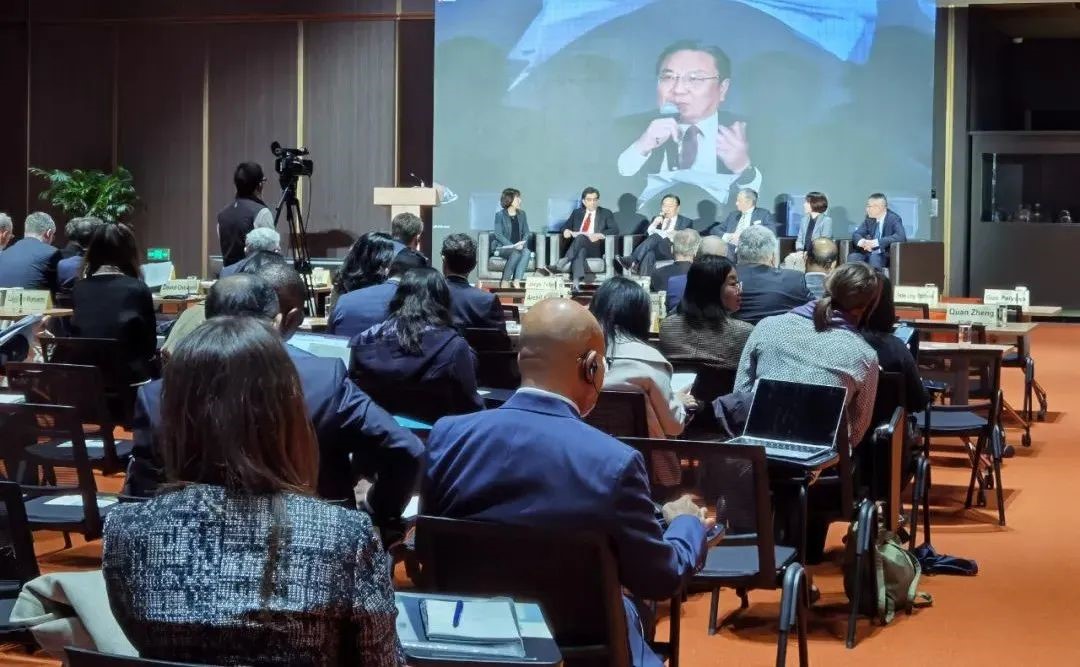 At the sub-forum "Improving sustainability disclosures to increase green investments in the EU and China" chaired by Dai Yibo, Dr. Zhang Wencai, Vice President of the Export-Import Bank of China, Najeeb Haider, Director General of Banking Department (Region 2) of AIIB, Dr. Yue Haiyan, Compliance Director of Zhejiang Geely Holding Group, Peter Ling-Vannerus, Chief Representative of Skandinaviska Enskilda Banken (SEB) in Beijing, Dr. Leng Bing, a full-time member of ISSB, participated in the discussion.

For more information about ESG management consulting, report, rating, training, etc., you can contact the ESG and Climate Change Services at:
Email: esg@goldenbeechina.com
Tel: 010-62132901