The 2nd International Workshop on Responsible, Sustainable and Successful Supply Chain Held
source:goldencsr &nbsp&nbsp date:2015-08-18 15:37:36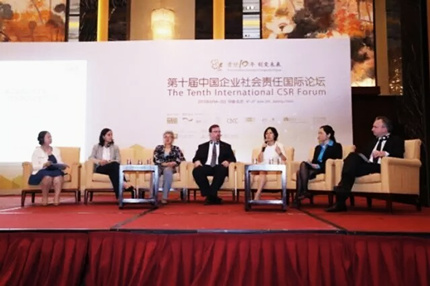 On June 5th, 2015, the Second International Workshop on Responsible, Sustainable and Successful Supply Chain was held in Beijing. The workshop was one of the parallel panels of the 10th International CSR Forum which was supported by GoldenBee (Beijing) Management Consulting Co., Ltd and hosted by China WTO Tribune, CSR Europe, GIZ, econsense and 3 other international organizations.
The second international workshop on Responsible, Sustainable and Successful Supply Chain focused on opportunities for suppliers and explored how to create more values with suppliers. Volkswagen, Siemens, Linde Group, BASF, Daimler, Deutsche Telekom, Bayer and other transnational companies and suppliers participated in the workshop and shared their good practices in supplier partnership and sustainable management of supply chains, as well as their experience in work safety, business continuity planning, anti-corruption to qualification training on CSR.
The workshop has attracted over 120 guests from well-known transnational companies, Chinese suppliers, academia and government.
For more information, please contact us at mingming.yang@goldenbeechina.com or click here: http://en.csr-china.net/a/knowledge/CSRNews/2015/0807/53.html