Benefits, Destiny and Responsibility Community of Chinese Companies Going Global Forum Held
source:goldencsr &nbsp&nbsp date:2015-09-01 10:25:32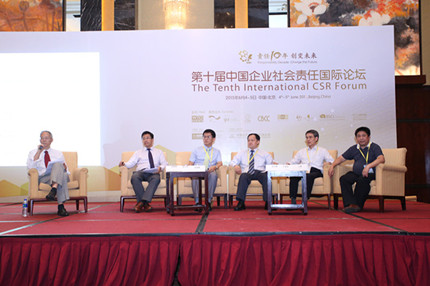 On June 5th, 2015, "One Belt and One Road: Benefits, Destiny and Responsibility Community of Chinese Companies Going Global" forum was held in Beijing. The forum was one of the parallel panels of the 10th International CSR Forum which was supported by GoldenBee (Beijing) Management Consulting Co., Ltd and hosted by China WTO Tribune, CSR Europe, GIZ, Embassy of Sweden in Beijing and 3 other international organizations.
Lihong SONG, Deputy Director General of Comprehensive Department, Ministry of Commerce, and Philipp Kruschel, Director of Emerging Market Multinationals Network for Sustainability, GIZ, delivered speeches at the parallel panel. During the panel discussion, Lihui SUN, Director of Communication Department, China Chamber of Commerce of Metals Minerals & Chemicals Importers & Exporters (CCCMC), and representatives from Chinese enterprises discussed challenges as well as coping strategies and practices in the "going global" process.
Over 80 guests participated in the forum, and they agreed that companies must fulfill their CSR in a high standard, and practice the philosophy of responsibility in companies' internal and external communications, decision-making and actions so that companies could go global in a better and more sustainable way.
For more information, please contact us at mingming.yang@goldenbeechina.com
or click here: http://en.csr-china.net/a/knowledge/CSRNews/2015/0720/46.html