The 12th Sino-European CSR Round Table Forum Held in Beijing
source:goldencsr &nbsp&nbsp date:2015-09-08 10:46:54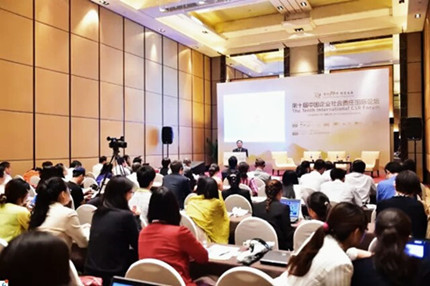 On June 4th, 2015, the 12th Sino-European CSR Round Table Forum was held in Beijing. The forum was one of the parallel panels of the 10th International CSR Forum which was technically supported by GoldenBee (Beijing) Management Consulting Co., Ltd. and sponsored by China WTO Tribune, CSR Europe, GIZ, econsence and three other organizations.
The round table forum took "Due Diligence for Responsible Supply Chains" as the theme, and focused on the influence exerted by due diligence on enterprises' supply chain value and the new thinking on promoting social responsibility development from the perspective of supply chain. Xiuming GUO, Division Director, Department of Policies, Laws and Regulations of Ministry of Industry and Information Technology, addressed the conference. Yuanqiao Chen, Senior Engineer of China National Institute of Standardization and Secretary-General of ISO Social Responsibility Secretary General of ISO Social Responsibility Working Group, delivered a keynote speech at the conference. Lihui SUN, Director of Communication Department, China Chamber of Commerce of Metals Minerals & Chemicals Importers & Exporters (CCCMC) expressed his opinions onthe recent hotspot issue of conflict minerals in international mineral field.
The round table forum has attracted over 80 guests from international organizations, industry associations, Chambers of Commerce and so forth. The participants discussed due diligence and supply chain relationship, which has better explained the significance of Sino-European CSR Round Table Forum as a professional and pragmatic communication channel in CSR field.
For more information, please contact us at mingming.yang@goldenbeechina.com or click here:
http://en.csr-china.net/a/knowledge/CSRNews/2015/0720/46.html