30•60 Responsible Future|The 16th International CSR Forum held
source:goldencsr &nbsp&nbsp date:2021-06-22 17:14:40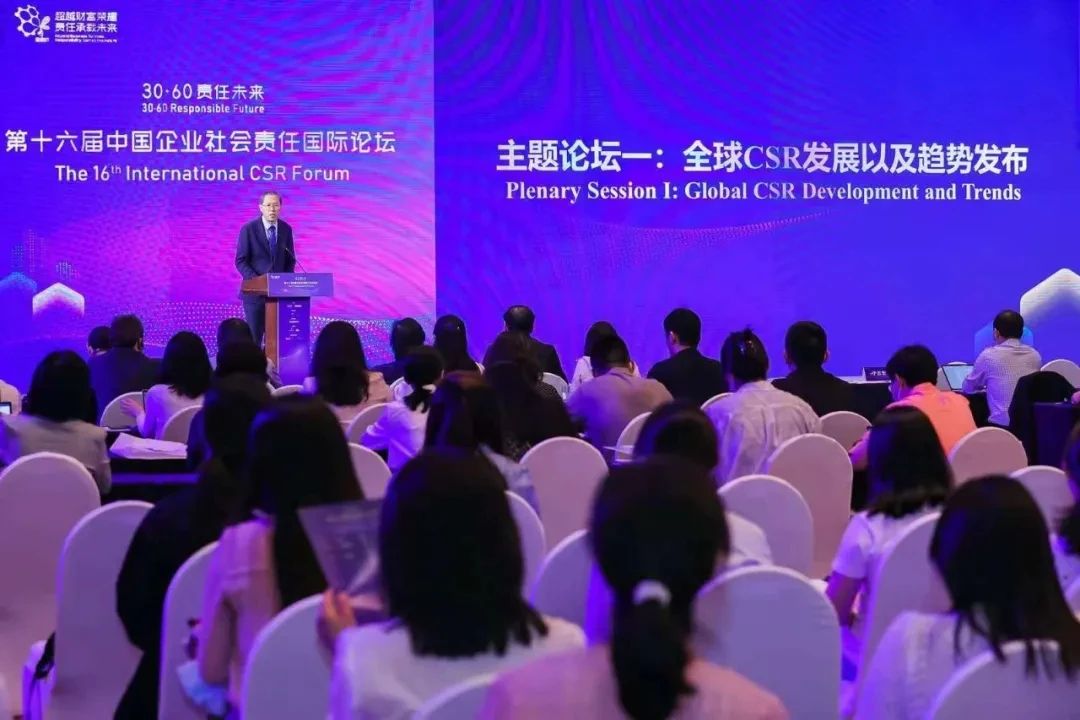 From June 9 to 10, the 16th International CSR Forum with the theme of "30·60 Responsible Future" was held in Beijing. Representatives from all walks of life at home and abroad gathered here to exchange the CSR development trends, and explore the path of CSR fulfillment towards the goals of carbon peak and carbon neutrality.
Hosted by the GoldenBee ThinkTank and China Sustainability Tribune, the forum is co-hosted by CSR Europe and CBCC, and supported by CAAM and Qualcomm.
Prospect of global CSR
The forum continued the principle of "professionalism" and "internationalization", and responded to the call of the times. The global CSR development as well as the latest progress in the implementation of the UN Sustainable Development Goals (SDGs) was shared at the forum.
Representatives from Europe, Japan, the United States and China shared the latest CSR trend in their respective regions.
Yin Gefei, Founder and Chief Expert of GoldenBee, Deputy Secretary-General of ISO 26000 Stakeholder Global Network (ISO 26000 SGN)
In recent years, ESG has become a hot topic in capital market and financial market.
Yin Gefei, Founder and Chief Expert of GoldenBee, Deputy Secretary-General of ISO 26000 Stakeholder Global Network (ISO 26000 SGN), analyzed the four mechanisms in the CSR era, and proposed that ESG will enhance the awareness of risks and opportunities in social responsibility, provide a new action framework of social responsibility, quantify the performance of social responsibility in investment and financing, and highlight G (Governance) in social responsibility. This may set off a new wave of corporate social responsibility development.
CSR has always been the key to promote the sustainable corporate development. In recent years, there is a global trend that CSR is undergoing the transition from voluntary mode to mandatory mode.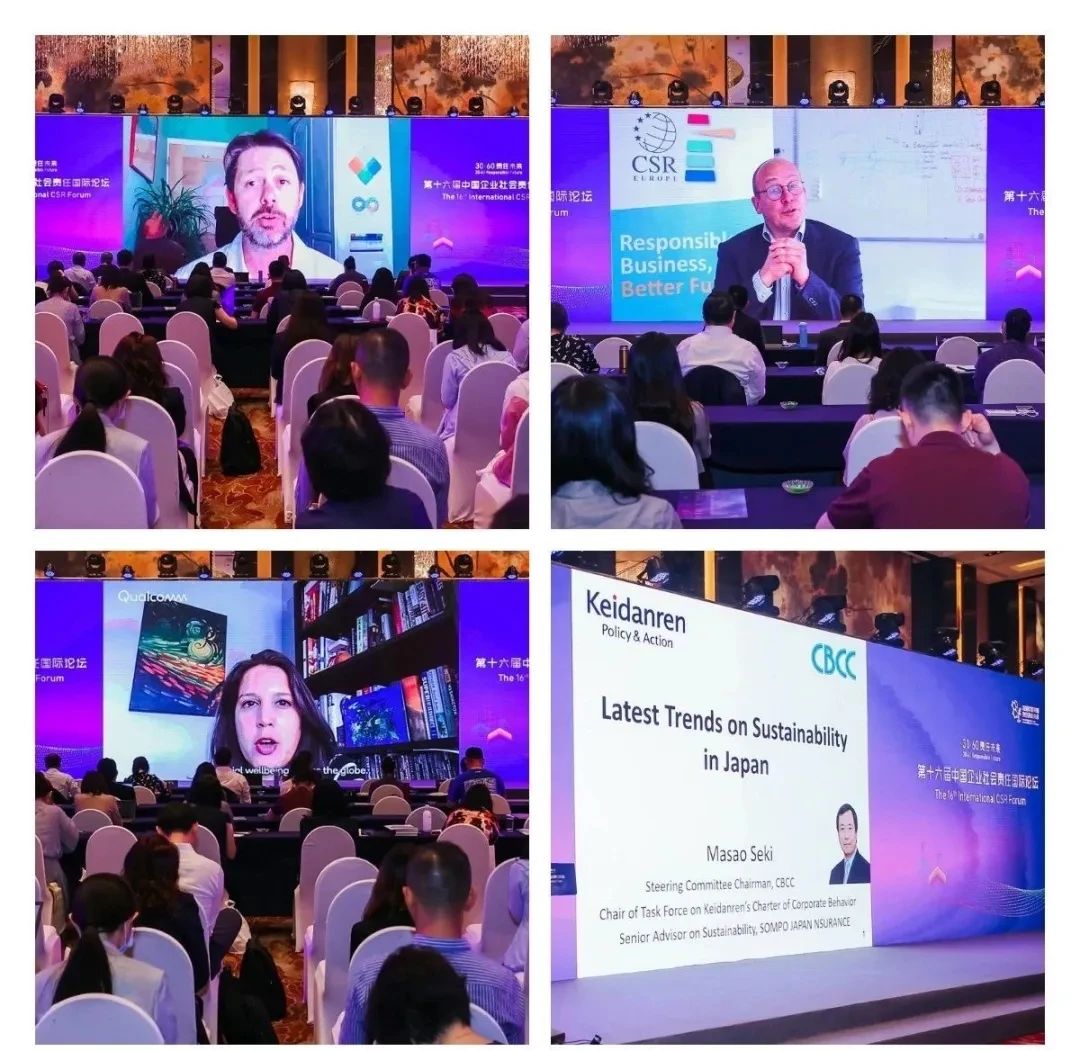 Experts and scholars from Europe, Japan and the United States share their views through videos
The information shared by experts and representatives from Europe, Japan and the United States showed that the consensus and requirements of EU's green deal, strengthened CSR information disclosure, digital transformation and integration of SDGs into corporate strategies are promoting and helping the more flexible corporate development strategies and priorities.
Guan Zhusun, Executive Vice President and Chief Operating Officer, GoldenBee CSR Consulting
Under the background of the COVID-19 pandemic, the goals of carbon peak and carbon neutrality and the decisive victory of poverty alleviation, the composite index of CSR in China has shown some new characteristics although it dropped slightly.
The founding disclosed in the GoldenBee China CSR Index Report 2020 released by Guan Zhu, indicates that,
- The CSR composite index of state-owned enterprises and state-controlled enterprises rose against the trend;
- The CSR composite index of electric power and engineering industries rose, while the mining, manufacturing, storage and transportation and financial industries dropped;
- Enterprises attached strategic importance to social responsibility;
- CSR leadership and daily management indicators fluctuated;
- The proportion of loss-making enterprises increased significantly, and the shareholder index decreased significantly;
- The index of customers and employees decreased;
- The supplier index developed steadily;
- The community index decreased slightly;
- The CSR information disclosure of growing enterprises needs to be strengthened;
- The case practice focuses on sustainable products / services, community and environment.
Accordingly, the Report put forward suggestions: carry forward the social responsibility of state-owned enterprises; enhance the CSR leadership; promote the integration of social responsibility into management and operation; actively participate in rural vitalization; strengthen social responsibility information disclosure; share good CSR stories.
The breakout sessions of the forum focused on current hot topics, such as Sustainable Brands: a New Track for Global Competition, Approaches to Activating Stronger Corporate ESG Action, Sustainable Commercial Value of Rural Vitalization and High-Quality Development and Responsible Competitiveness.
New Strengths
SDG Initiative by Chinese Youth released and Biodiversity -Sustainable Art Exhibition launched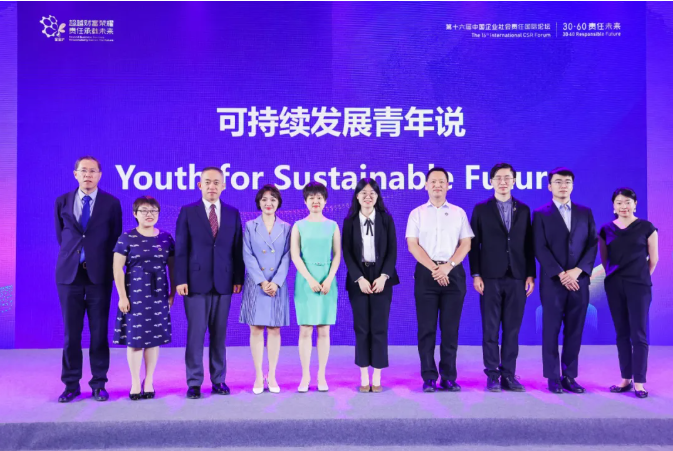 Youth is the main role of innovation and the driving force of promoting the implementation of SDGs.
At this forum, China Sustainability Tribune, together with State Grid Zhejiang Electric Power Co.,Ltd, hosted the session "Youth for Sustainable Future". Five young people from different industries and fields shared their youth stories on SDGs. They and the youth groups they represent, with innovative ideas and vitality, gather together to contribute to the sustainable development.
The SDG Initiative by Chinese Youth was released to call on more young people to join in the SDG actions and more enterprises and organizations to provide support for young people to contribute SDGs.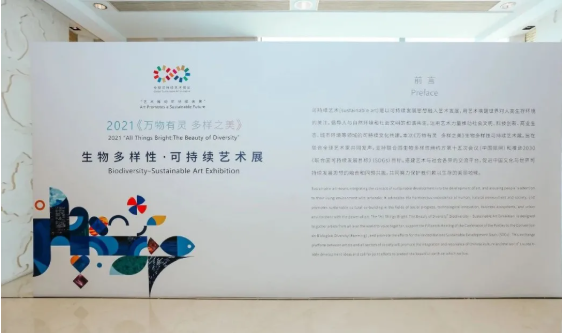 Towards the SDGs, art also has its unique value and advantages. At the forum, "All Things Bright: the Beauty of Diversity" Biodiversity – Sustainable Art Exhibition was officially launched, aiming to promote the integration of Chinese art and sustainability philosophy.
2021 GoldenBee CSR China Honor Roll released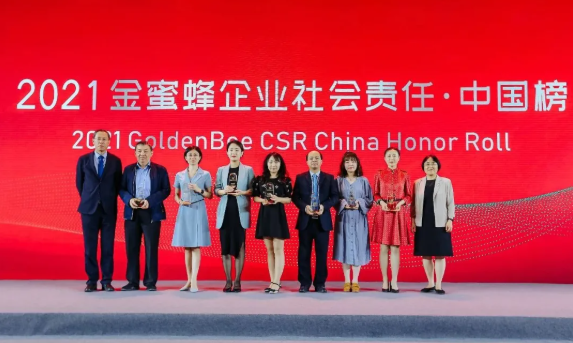 GoldenBee adheres to the philosophy of "responsible competitiveness for sustainable development", leading CSR to develop better in China.
Since 2016, as an important action for China to implement the 2030 Agenda for Sustainable Development, the GoldenBee Global CSR 2030 Initiative has focused on the "common vision, responsible competitiveness, targeted practices, cross-border cooperation, and shared value" and performs social responsibility on a higher, broader and deeper level, so as to contribute to the final realization of SDGs. Currently, 34 enterprises and four organizations have become co-initiators of the GoldenBee Global CSR 2030 Initiative.
As a platform to connect outstanding responsible enterprises, 2021 GoldenBee CSR China Honor Roll was released. 34 companies have stood out from more than 300 candidates, and won the honors of leading enterprise, growing enterprise, GoldenBee awards for sustainable development, employee care, care, ecological civilization, customer focus, harmonious contributor, excellent poverty alleviation practice, responsible procurement, and responsible finance.
With the continuous efforts in the practice of responsible competitiveness, seven old GoldenBee Enterprises were listed again, setting an example for more enterprises to carry out extensive and in-depth CSR practice in related fields. In addition, 11 companies won GoldenBee Honor Roll Listed Company Awards.
Since the release of GoldenBee CSR China Honor Roll in 2008, this event, aiming to look for bee-like companies in China who pursuit sustainable development with responsible management, has attracted more than 4,000 companies and organizations to participate. There are 398 GoldenBee Enterprises by now. As the representative and symbol of sustainable development mode, their wisdom and solutions for China's sustainable development epitomize a collective image of responsible enterprises.
Scan the QR code to watch the video replay

https://www.csr-china.net/ind/202006/gb2020/live.php