The 4th China Automotive Industry Sustainable Development Forum
source:goldencsr &nbsp&nbsp date:2021-07-05 17:05:22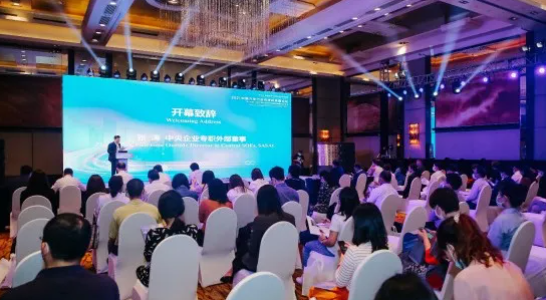 On June 9, 2021, China Association of Automobile Manufacturers (CAAM) held the 4th China Automotive Industry Sustainable Development Forum in Beijing.
In the first year of China's 14th Five-Year Plan, the 4th China Automotive Industry Sustainable Development Forum with the theme of "New Challenges & Breakthroughs and Integrated Innovation Towards Sustainable Development" summarized the CSR development and sustainable cause of China's automotive industry to improve the CSR practices and advance the sustainable development of the industry to new levels.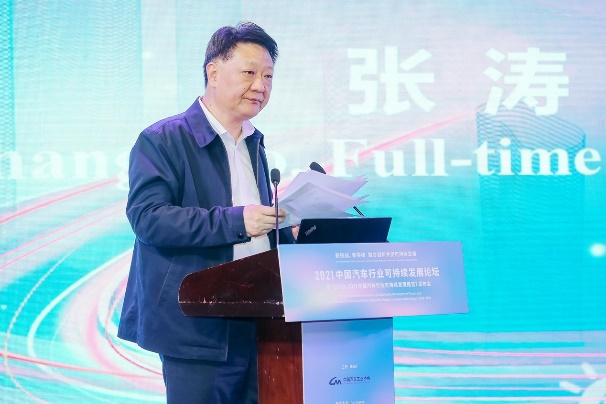 Zhang Tao, Full-time Outside Director in Central SOEs, SASAC
In his welcoming address, Zhang Tao expounded how the industry associations, chambers of commerce and service institutions, as well as the enterprises to better fully fulfill social responsibility, and also put forward relevant requirements for the industry on better advancing social responsibility work.
He stressed that the social responsibility of an industry is the overall reflection of the CSR performance of enterprises in the industry, including the overall CSR value of enterprises and the industry self-discipline led by industry organizations for higher social responsibility achievement.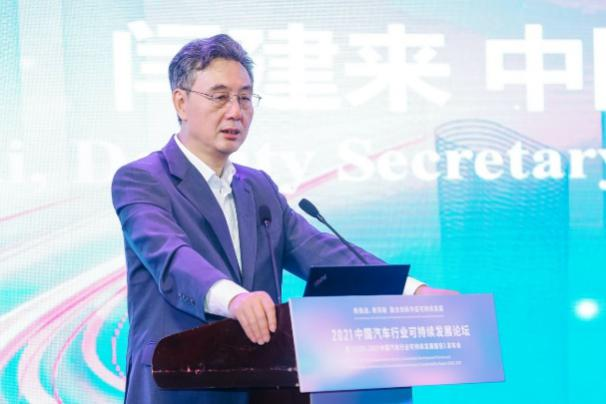 Yan Jianlai, Deputy Secretary General of China Society of Automotive Engineers
Yan Jianlai introduced the relevant experience of China Society of Automotive Engineers in the social responsibility of China's automotive industry, especially the achievement in promoting industrial technological innovation and fostering high-end talents. He put forward a number of suggestions, such as automotive companies should transform from a product provider to a builder of a harmonious automobile society.
Zhao Yang, Vice Chairman of China Council for the Promotion of International Trade Automotive Industry Branch
Zhao Yang believed that the goals of carbon peak and carbon neutrality are new challenges for enterprises, which require enterprises to extend carbon emission reduction to the whole life cycle of products and put forward clear carbon emission reduction targets respectively for the production and use stages (including suppliers). They should pursue technological progress for long-term sustainable development under the "dual circulation" development pattern.
In the keynote speeches, speakers shared the CSR achievements and development trend of China's automotive industry.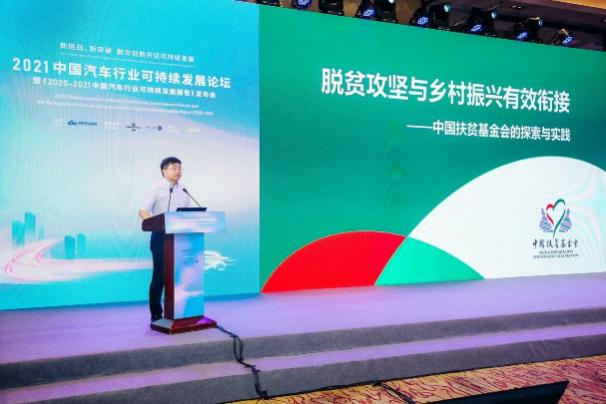 Chen Hongtao, Deputy Executive Director, China Foundation for Poverty Alleviation
Chen Hongtao introduced the exploration and cases of China Foundation for Poverty Alleviation (CFPA) in poverty alleviation and rural vitalization, and shared the typical practices that CFPA worked with automotive companies to support poverty alleviation, opening new ways for automotive companies to leverage their own advantages for sustainable development.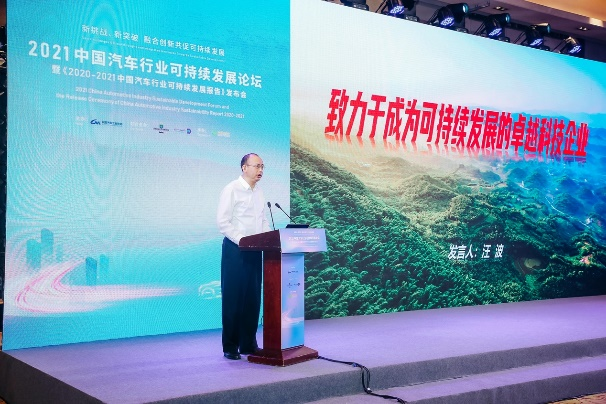 Wang Bo, Director of General Office, Dongfeng Motor Corporation
Wang Bo introduced Dongfeng Motor Corporation's performance in the COVID-19 battle and poverty alleviation, as well as its CSR Plan 3.0, which comprehensively showed the company's effort on building a "3+1" social responsibility system framework.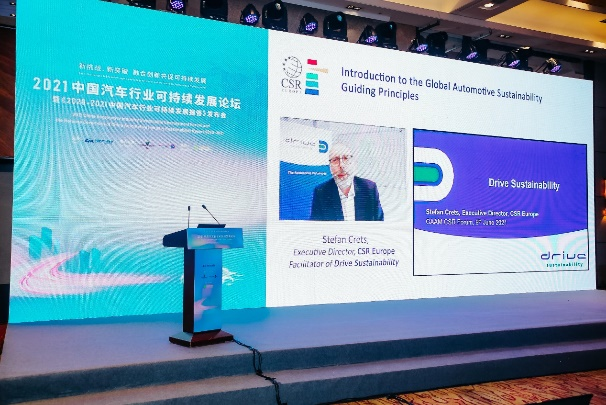 Stefan Crets, Executive Director, CSR Europe
After introducing the international social responsibility characteristics in automotive industry, Stefan Crets shared the sustainability standards of global automotive industry and elaborated the comprehensive scheme integrating industrial chain and supply chain development requirements, providing a reference for the automotive supply chain in China to advance the development of social responsibility.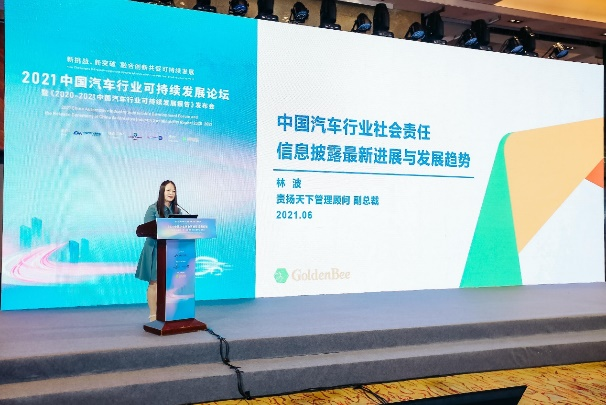 Lin Bo, Vice President of GoldenBee CSR Consulting
Based on the investigation, Lin Bo shared the latest progress of social responsibility information disclosure in China automotive industry, and analyzed the development trend of social responsibility in the industry.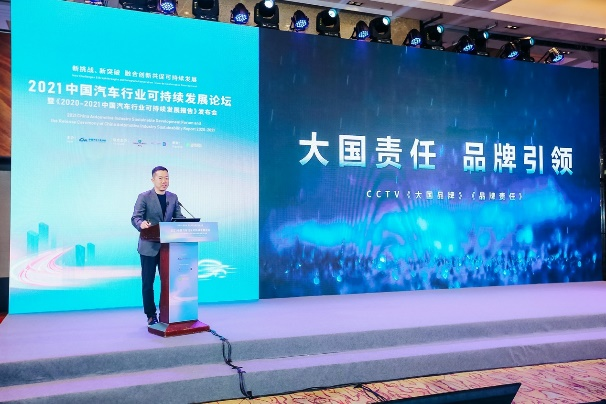 Wu Gang, Director, Institute of Corporate Communication, Communication University of China
Wu Gang elaborated the important value and role of brand responsibility, and pointed out that the automotive companies should further strengthen responsible branding so that the CSR influence can help transform Chinese products to Chinese brands through brand communication.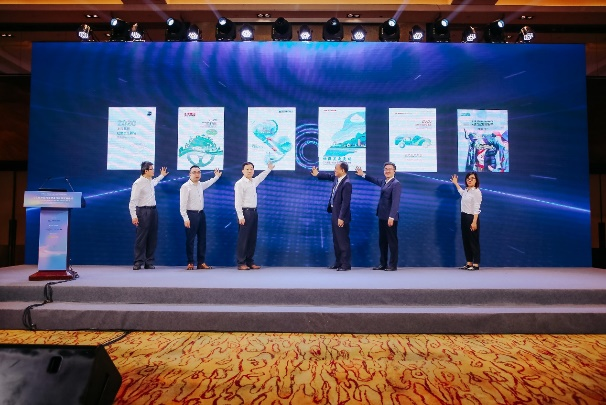 Group release of CSR reports by automotive companies
Six Chinese automotive companies, including SAIC, JAC, Sinomach Automobile, GAC Toyota, GAC Honda and BAIC New Energy, released their CSR reports at this forum to share their thoughts and practices on CSR fulfillment with the public.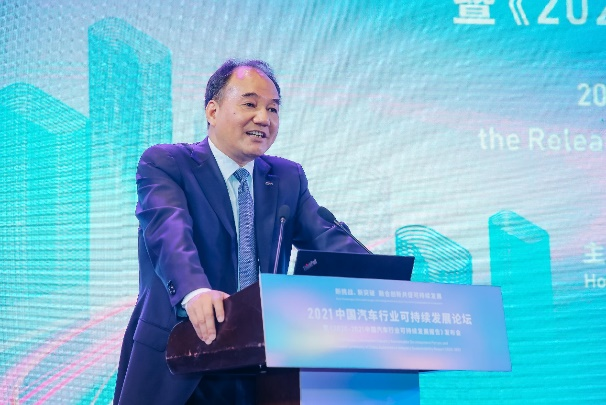 Ye Shengji, Chief Engineer, Deputy Secretary General of CAAM
Ye Shengji said that, the 14th Five-Year Plan marks a new starting point. China's automotive industry will continue to interpret the attitude and determination of building a community of responsibility and shared future with unremitting efforts. The industry will also conduct in-depth exploration on the industry's sustainability standards, CSR information disclosure, sustainable supply chain management, low-carbon action, rural vitalization, and responsible branding, so as to support the innovation and high-quality development of China's automotive industry.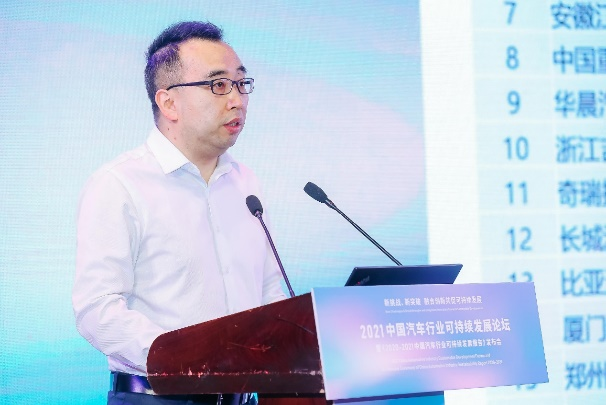 Li Shaohua, Deputy Secretary General, CAAM
The China Automotive Industry Sustainability Report 2020-2021 was released at this forum. Li Shaohua, Deputy Secretary General, CAAM, interpreted the report.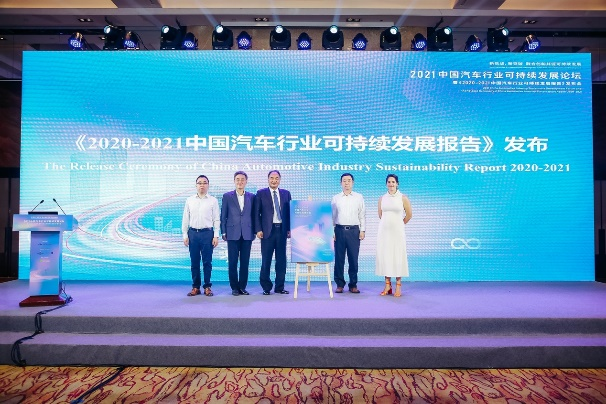 The report summarizes the social responsibility achievement of automotive industry in 2020 from the aspects of economic development, CSR governance, green development and community contribution, etc., which promoted the comprehensive, coordinated and sustainable development of automotive industry, and provided reference for other industries to fulfill their social responsibility.
At the forum, Paola Albornoz, First Secretary, Responsible Trade (CSR), Embassy of Sweden in Beijing, also delivered a speech. The forum was co-hosted by Embassy of Sweden in Beijing, and Drive Sustainability China, and organized by GoldenBee (Beijing) Management Consulting Co., Ltd.