The 2017 GoldenBee CSR Report Honor Roll released
source:goldencsr &nbsp&nbsp date:2017-12-25 17:03:42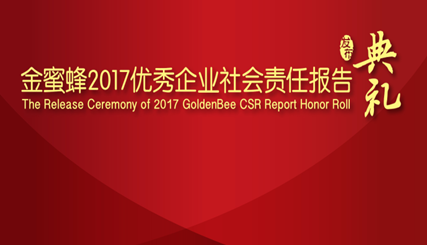 The Release Ceremony of 2017 GoldenBee CSR Report Honor Roll was held during the 10th International Conference on CSR Reporting in China on December 1.
After systematic evaluation and analysis of 1,433 CSR reports among 1,541 reports issued in Mainland China in the first 10 months of 2017, 73 CSR reports were awarded Leading Enterprise, Growing Enterprise, Foreign-Invested and Hong Kong, Macao, and Taiwan-Invested Enterprise, Evergreen Award, and other seven special awards.
China WTO Tribune, with support of GoldenBee CSR Consulting, has issued research reports and conducted evaluation activities of "GoldenBee Excellent CSR Report" for 9 consecutive years.
So far, the evaluation activities have evaluated over 10,000 CSR reports, and there are more than 300 reports released by the enterprises being listed on the honor roll, which provides a comprehensive professional platform for outstanding CSR reports and enterprises to present and share their CSR practices.
2017 GoldenBee CSR Report Honor Roll
GoldenBee Excellent CSR Report 2017 • Leading Enterprise
China Aerospace Science and Industry Corporation CSR Report 2016
China Shipbuilding Industry Corporation CSR Report 2016
China Electronics Technology Group Corporation CSR Report 2016
China FAW Group Corporation Social Responsibility Report 2016
Ansteel Group Corporation Sustainability Report 2016
China National Aviation Fuel Group Corporation CSR Report 2016
Beijing Automotive Group Co., Ltd Social Responsibility Report 2016
China Mengniu Dairy Company Limited Sustainability Report 2016
China National Nuclear Power Co., Ltd Social Responsibility Report 2016
China Vanke Co., Ltd CSR Report 2016
HNA Group Social Responsibility Report 2016
ZTE Corporation Sustainability Report 2016
GoldenBee Excellent CSR Report 2017 • Growing Enterprise
Anhui Provincial Investment Group Holding Co., Ltd Social Responsibility Report 2016
China VAST Industrial Urban Development Company Limited CSR Report 2016
COSCO Shipping Development Co., Ltd CSR Report 2016
Guangzhou Metro Social Responsibility Report 2016
Tibet Qizheng Tibetan Medicine Co., Ltd Social Responsibility Report 2016
GoldenBee Excellent CSR Report 2017 • Foreign-Invested and Hongkong, Macao, and Taiwan-Invested Enterprise
Daikin (China) Investment Co., Ltd CSR Report 2017
Fuji Xerox (China) Limited Sustainability Report 2017
IBM China CSR Report 2015-2016
LG China Social Responsibility Report 2016
Nokia Shanghai Bell (NSB) CSR Report 2016
Shui On Land CSR Report 2016
GoldenBee Excellent CSR Report 2017 • First Report Award
Apple China CSR Report 2016-2017
GoldenBee Excellent CSR Report 2017 • Employee Care Disclosure Award
Energy China Group Social Responsibility Report 2016
Energy China • Employee Development Report 2011-2016
China Southern Airlines Social Responsibility Report 2016
CCOOP CSR Report 2016
GoldenBee Excellent CSR Report 2017 • Customer Engagement Disclosure Award
Guangzhou Power Supply Co., Ltd. Social Responsibility Report 2016
2016 Industrial Bank Sustainability Report
Hainan Airlines Social Responsibility Report 2016
GoldenBee Excellent CSR Report 2016 • Environmental Protection Disclosure Award
China National Offshore Oil Corporation Sustainability Report 2016
Beijing Capital International Airport Co., Ltd CSR Report 2016
GoldenBee Excellent CSR Report 2017 • Social Contribution Disclosure Award
China Eastern Airlines Social Responsibility Report 2016
China Merchants Shekou Industrial Zone Holdings Co., Ltd Social Responsibility Report 2016
Yunnan Copper (Group) Co., Ltd Social Responsibility Report 2016
GoldenBee Excellent CSR Report 2017 • Supplier Engagement Disclosure Award
SMIC CSR Report 2016
2016 Yili Group Corporate Social Responsibility Report
HNA Hospitality Group CSR Report 2016
GoldenBee Excellent CSR Report 2017 • Overseas CSR Disclosure Award
China National Petroleum Corporation CSR Report on China-Myanmar Oil and Gas Pipeline Project 2016
China Road and Bridge Corporation Social Responsibility Report on Mombasa - Nairobi SGR Project 2016
China Wuyi Kenya Co., Ltd Social Responsibility Report 2016
GoldenBee Excellent CSR Report 2017 • Evergreen Award
One-star rating
NORINCO Group CSR Report 2016
China Petrochemical Corporation Social Responsibility Report 2016
China Huadian Corporation Sustainability Report 2016
China National Machinery Industry Coporation Social Responsibility Report 2016
China Minmetals Corporation Sustainability Report 2016
China Merchants Group Social Responsibility Report 2016
China Resources (Holdings) Co.,Ltd Social Responsibility Report 2016
China National Chemical Corporation Sustainability Report 2016
2016 CGN Power Co., Ltd CSR Report
Air China Limited Social Responsibility Report 2016
2016 Beijing Enterprises Group CSR Report
China Machinery Engineering Corporation Social Responsibility Report 2016
Shenzhen Gas Social Responsibility Report 2016
Canon (China) CSR Report 2016-2017
Daimler China 2016 Sustainability Report
China Panasonic Sustainability Report 2016-2017
Sony China CSR Report 2017
HUAWEI Sustainability Report 2016
Suning Appliance Co., Ltd. Social Responsibility Report 2016
Two-star rating
China National Petroleum Corporation CSR Report 2016
State Grid Corporation of China CSR Report 2016
China Southern Power Grid CSR Report 2016
China Three Gorges CSR Report 2016
2016 China Mobile Communications Corporation Sustainability Report
Aluminum Corporation of China Social Responsibility Report 2016
SINOCHEM Group Sustainability Report 2016
Shenhua Group Corporation Limited Social Responsibility Report 2016
China State Construction Engineering Corporation Limited Sustainability Report 2016
China Yangtze Power Co., Ltd. Social Responsibility Annual Report 2016
Eaton 2016 Sustainability Report-China
Intel China CSR Report 2016
Infinitus CSR Report 2016
Notes: 1. One-star rating: for enterprises which have been awarded Evergreen Award for the first time
2. Two-star rating: for enterprises which have been awarded Evergreen Award for 2 consecutive years