Company Profile
GoldenBee CSR Consulting, founded in 2003, is one of the first professional organizations to embrace social responsibility and sustainabile development in China. We strive to develop a close partnership with sustainability-oriented enterprises and organizations and serve as a high end think tank for them.

As an advocate, communicator, promoterand pioneer of social responsibility in China, GoldenBee CSR Consulting takes the lead in researching, consulting, training and responsible brand building services; Based on rich practical and research experience, GoldenBee CSR Consulting proposes and advocates "Responsibility Competitiveness" philosophy, continuously provides high quality CSR consulting services to clients, develops innovative management patterns together with clients to help them transform into sustainable enterprises meeting future challenges.
The way to perform and spread social responsibility
In 2003, GoldenBee CSR Consulting was established.
In 2004, we started to cooperate with international organizations in social responsibility programs.
On 7 September, GoldenBee put forward "Responsible competitiveness" at 2005 Sino-European CSR International Forum and Strategic Training of Chinese Corporate Social Responsibility (Beijing).
In 2006, the first batch of research monographs came off the press. GoldenBee CSR Consulting was the first in China to put forward the year of 2006 as the first year of the development of corporate social responsibility in China.
In 2007, we took the lead in carrying out consulting service for the compilation of CSR report, put forward the concept of "GoldenBee" and established the GoldenBee CSR Practice Evaluation System.
In 2008, we took the lead in carrying out social responsibility management consulting service, published the first CSR report compilation monograph, How to Write a CSR Report, and the first CSR management monograph, the Basic Course of CSR Management, and co-published the State of Responsible Competitiveness 2007.
In 2009, we raised the philosophy of regional responsible competitiveness and the concept of responsible brand and established the GoldenBee CSR Report Evaluation System. We became the cooperative partner of Global Reporting Initiative in training in mainland China.
In 2010, we participated in the formulation of social responsibility standard of ISO 26000 and brought up the philosophy of industrial responsible competitiveness. We co-published the State of Responsible Competitiveness 2009.
In 2011, the Guide on Social Responsibility for Chinese International Contractors, for which we provided professional skills, was put into effect. The Guide was forwarded by Ministry of Commerce in 2012.
In 2012, we proposed the year 2012 as the first year of social responsibility management in China.
In 2013, we participated in the formulation of CSR national standard in China.
What do we do
Based on the deep understanding of social responsibility, GoldenBee CSR Consulting don't believe a "one size fits all" solution exists. We are convinced that only the tailor-made solutions can help our clients reap benefits and create value. Based on the practical operation mode of our clients and their market positioning, we design solutions and assist them in the following implementation.
For many influential enterprises and organization around the world, GoldenBee CSR Consulting is a reliable social responsibility consultant. We have provided services for a number of enterprises in the list of Fortune Global 500 and China's top 500 enterprises.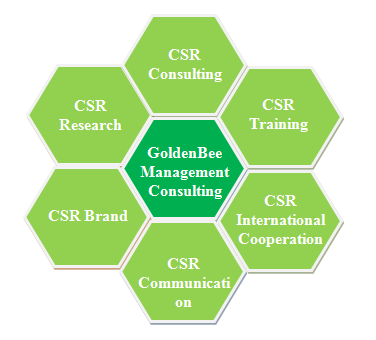 Leading Provider of Comprehensive Service in Social Responsibility and Sustainable Development