Impact of COVID-19 Pandemic on Chinese Enterprises
source:GoldenBee &nbsp&nbsp date:2020-04-16 17:43:43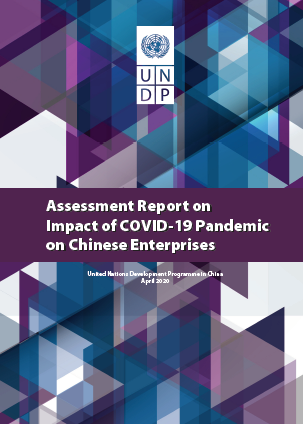 The Assessment Report on Impact of COVID-19 Pandemic on Chinese Enterprises was released in early April, 2020. This research was organized and conducted by the United Nations Development Programme (UNDP) in China, with professional support from GoldenBee (Beijing) Management Consulting Co., Ltd. It assesses the impact of the COVID-19 pandemic on non-state-owned enterprises in China, such as large private-owned enterprises (POEs) as well as small and medium enterprises (SMEs), to better understand their needs. It proposes recommendations on relevant policies and provides baselines for international organizations to design cooperative projects.
The Novel Coronavirus Disease (COVID-19) has had an immense impact on people's health and economic development both in China and globally. On March 11, 2020, the World Health Organization (WHO) officially designated the COVID-19 crisis a pandemic.
Zooming into China, the pandemic has had a huge impact on its economy in the short run, possibly expanding to the medium run as well, owing to the impact on net exports stemming from a likely marked global slowdown. According to data released by the National Bureau of Statistics of China, in January and February, the value-added of industry above designated size, investment, and retail sales fell by 13.5%, 24.5%, and 20.5% respectively compared with the same period of the previous year, and the unemployment rate reached 6.2%. Chinese enterprises also faced tremendous challenges during the prevention and control stages of the outbreak, which restricted their production and operation activities and posed risks to operations in the short term.
Assessment methods
The Report combines the methodology of primary interviews, big data analytics and literature reviews. Firstly, based on the research framework, we conducted in-depth theme interviews with nine managers from non-state-owned enterprises in sectors including textiles and garments, social media, public relations, infrastructure data consulting, sporting goods and education, as well as four industry experts and scholars. Secondly, the study utilized big data to analyze the impact of COVID-19 on China's economy and recovery. Thirdly, to obtain a comprehensive assessment, we also analyzed reports and research by ten organizations covering over 78,000 SMEs and large POEs' responses to the impact of COVID-19.
Technology roadmap
The short-term impact of the pandemic on enterprises is mainly reflected in their huge operating pressures, while mid- and long-term impacts lie mainly in adverse effects on enterprises' supply chains and market demand―both emerging with a lag, but potentially at growing speed and magnitude. To achieve a comprehensive impact assessment, multiple factors, including measures taken by the enterprises, supporting policies, industry chain synergies and expectations for future developments (particularly for forward-looking decisions such as investment in production assets by SMEs and government, and in consumer durables by consumers) should be considered.
Based on the assessment, the Report proposes recommendations for government entities, international communities, financial institutions, business partners and enterprises, so that the latter can have strong and effective support during the pandemic containment stage and achieve a return to steady growth through sustainable solutions.
Key findings
- The COVID-19 outbreak has created many challenges for enterprises, including tighter cash flows, a general decline in both market supply and demand, and disrupted supply chains. Most enterprises expect operating revenue to plunge in the first half of 2020.
- Enterprises have accordingly adopted countermeasures, including implementing flexible work arrangements, upgrading products and services and cutting costs, to cope with the pandemic. However, most SMEs tend to determine their business strategy adjustments more based on the short-term market situation with a limited understanding and consideration regarding the long-term market trend.
- Enterprises generally find supporting policies focused on operating costs reduction or exemption, work and production resumption promotion, as well as special supporting policies targeting the most severely affected industries such as tourism, quite effective.
- Chinese enterprises have relatively strong confidence in China's industrial and overall economic recovery, as well as longer-term prospects, while the global outlook faces greater uncertainties, due to the continuous spread of the virus.
- In the short term, the pandemic is likely to have a negative impact on the private sector's contribution to attaining the SDGs under the 2030 Agenda for Sustainable Development, to end poverty, reduce inequality and protect the planet. However, interviewed experts maintain that it is also likely to motivate enterprises to review their relationship with nature and society, and promote all stakeholders, including enterprises, the capital market, consumers and the government, attaching greater importance to inclusive, green development.
- Enterprises look forward to more policy support on financing from the government and banking system and to industry-specific supporting policies. They expect international organizations to build communication bridges to promote global consensus on and mutual trust in pandemic containment and economic support.
- Maintaining the confidence of enterprises and other sectors of society is vital to economic recovery, both in China and globally. Experts assert that the pandemic is expected to accelerate China's reform and opening-up. This requires the government to create a more enabling business environment, pushing enterprises to speed up their pace of reform and innovation. This may obstruct globalization as countries tend to boost self-sufficiency, calling for stronger multilateral cooperation and coordination among countries to jointly advance outbreak prevention and control, and strengthen global value chain coordination.
(Excerpt from the Report)
For the full Report, please visit UNDP website: https://www.cn.undp.org/content/china/en/home/library/crisis_prevention_and_recovery/assessment-report-on-impact-of-covid-19-pandemic-on-chinese-ente.html