What 36000 means-- An Interpretation of Chinese National Standards of Social Responsibility
source:goldencsr &nbsp&nbsp date:2015-11-27 14:47:53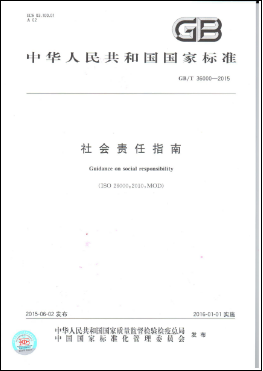 "36000" used to be a usual number. However, since June 2, 2015, it has been endowed with new meanings and missions in China. On that every day, General Administration of Quality Supervision and Inspection and Quarantine and the Standardization Administration officially approved and released three national standards of the "36000" series, namely, GB/T 36000-2015Guidance on Social Responsibility, GB/T 36001-2015 Guidance on Social Responsibility Reporting and GB/T 36002-2015Guidance on Classifying Social Responsibility Performance. The three national standards all include the two words "social responsibility". Therefore, "36000" has been endowed with the new meaning of "social responsibility national standards" in China and "36000" will become the synonym of "social responsibility" and be widely used.

Though "social responsibility national standards" sounds strange, professional and far away from our daily life, and it seems to have nothing to do with ordinary people, in fact, everyone should know the "36000" series (hereinafter referred to as "36000"). Why?
First,I have a question that is frequently asked, namely where are you working? Or do you have a working unit? If you do, "36000" is closely connected with you. It applies to all working units. The connection lies in 4 aspects: fist, "36000" tells you why the country formulated the 3 social responsibility national standards for all working units; second, it sheds light on the social responsibility of your working unit, why your working unit should perform social responsibility, the benefits of social responsibility fulfillment, the principles that should be followed, whom the working unit performs social responsibility for, and how to fulfill social responsibility in daily life; third, it tells you the CSR performance of your working unit, and the KPI used to measure the performance; fourth, it makes it clear how your working unit show its social responsibility philosophy, actions and performance in a standardized manner.
Of course, you may not have any working units. In this way, "36000" is still worth your attention as your daily life, expectations, thoughts and future are influenced by your future working units. And according to "36000", you actually are the stakeholder of your future working units. Therefore, they are liable to respect you, consider your thoughts and appeals, and respond to your expectations and concerns. Every coin has two sides. You have your rights as well as duties to participate in relevant activities held by these working units to express your views, appeals and wishes and defend your rights and interests. You should help them to do more good to you, your offspring, the environment and the society and assist them to reduce harm to the minimum when they make decisions and take actions.
Therefore, the 36000 Standard is related to the social responsibility issues for every working unit as well as how the working unit better gives full play to their social value. In addition, it is concerned with everyone. If the 360 degree means an all-round manner, "36000" is certainly concerned with everyone. Everyone should get to know it.