CSR Management of Central SOEs: New Level, New Target and New Mission
source:goldencsr &nbsp&nbsp date:2022-11-07 13:36:48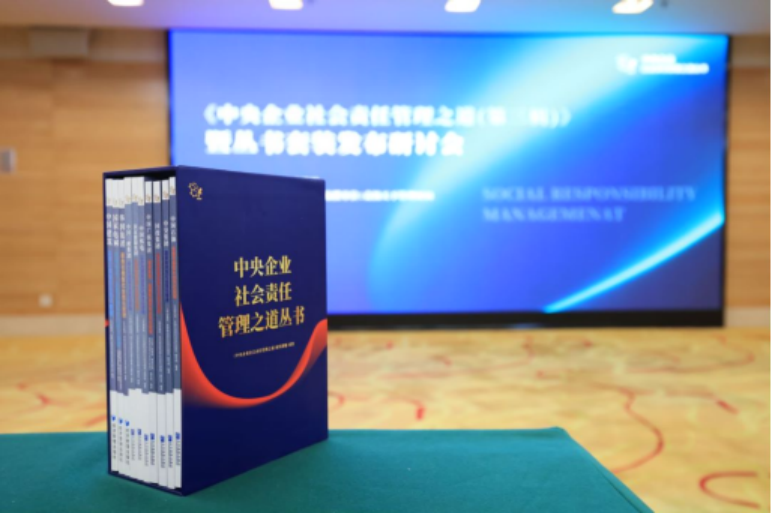 In 2012, the State-owned Assets Supervision and Administration Commission of the State Council (SASAC) listed social responsibility management as the key area in improving SOE management, promoting CSR management in China.

Over the past decade, propelled by the SASAC, SOEs have yielded great achievements in exploring social responsibility management. On the occasion of the 20th National Congress of the Communist Party of China (CPC), the release of four books on the way of social responsibility management of central SOEs including China National Petroleum Corporation, State Development & Investment Corp., Ltd., China Communications Construction Group Co., Ltd, and China General Nuclear Power Group, as well as the series "The Way of Social Responsibility Management of Central SOEs", reflecting some good experiences and practices of central SOEs in social responsibility management. It is the third batch of research results in that series. Previously, six books, represented by State Grid Corporation of China, China State Construction Engineering Corporation, China Resources (Holdings) Co., Ltd., China Three Gorges Corporation, China Energy Investment Corporation, China National Nuclear Power Ltd. and other central SOEs, were released in batches in 2020 and 2021 and received high attention from all walks of life.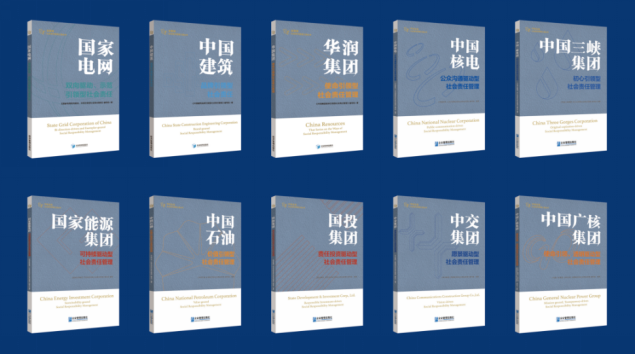 These typical representatives of central SOE's social responsibility management are also models in the field of global social responsibility.
Globally, large enterprises are exploring to introduce the concept and method of social responsibility into their business management. With systematic experience, these ten central SOEs can be seen taking the lead in the world.
CSR Management Is Vital in Building World-class Demonstrative Enterprises for Central SOEs
Central SOEs set models in social responsibility fulfillment by strengthening related management. The fulfillment of social responsibility is also an important part of creating a world-class demonstrative enterprise proposed by the SASAC.
First, regarding social responsibility management, central SOEs have well integrated it into their core concept, vision and mission, and has become the DNA of enterprise operation.
Second, as for the process of social responsibility management, central SOEs have gained much experience in exploring, leading and giving play to the joint responsibility of stakeholders. To accomplish social responsibility depends not only on business but also on their joint efforts and various stakeholders, so as to achieve the goal of comprehensive value created by the SASAC.
Finally, seeing from the results of social responsibility management, central SOEs have made remarkable achievements in creating the comprehensive value of the economic and social environment. Central SOE's nature decides that their goal is not only to make profits for shareholders but to pursue multiple goals for the economy, environment and society. Meanwhile, the purpose of central SOEs to serve relevant parties and society makes them communicate with various stakeholders and obtain support more easily, which in turn promotes the realization of their original intention for multiple goals.
CSR Management Is Significant for Today's Society Development
The importance of social responsibility management for social development is mainly reflected in three aspects:
First, social responsibility management reflects people-centered or can be seen as an effective management method for exploring the realization of people-centric management. It satisfies the demands and expectations of all stakeholders through the stakeholder approach, thus effectively practicing people-centered development, and highlighting the value orientation of socialism with Chinese characteristics in the new era.
Second, social responsibility management reflects common prosperity. It is to manage three levels of responsibility that "must-do responsibility, should-do responsibility and willing-to-do responsibility", which also effectively contribute to three distributions, namely, the secondary distribution of must-do responsibility, the tertiary distribution of willing-to-do responsibilities, and the primary distribution of should-do responsibilities. The effective management of these three distributions is also an effective contribution to the three distributions. Whether social responsibility is managed well can be measured and reflected by the effectiveness of contribution to common prosperity and three distributions.
Third, social responsibility management is future-oriented. The "S" in CSR has developed from Social to Sustainability, that is, the responsibility of enterprise sustainability which implies enterprises should not only achieve their own sustainable operation but promote the sustainable development of society. Such management is also future-oriented for promoting the sustainability of the global economy and society. On the whole, this new management is still developing with a long way to go. It is expected that led by the SASAC, central SOEs will further strengthen CSR management on this basis and promote the high-quality development of the entire economy and society with the goal of sustainable development.
It is hoped that more central SOEs at the forefront of social responsibility management will actively summarize and demonstrate their own characteristics of social responsibility fulfillment, strengthen the interactive development of social responsibility, further promote the improvement of social responsibility management, and demonstrate the responsibility of central SOEs in a wider range to jointly create a high-quality development model of effective governance and to be responsible for the economy, environment and society in the new era.