Report reveals that GoldenBee Enterprises lead in CSR practice
source:goldencsr &nbsp&nbsp date:2017-06-21 17:46:49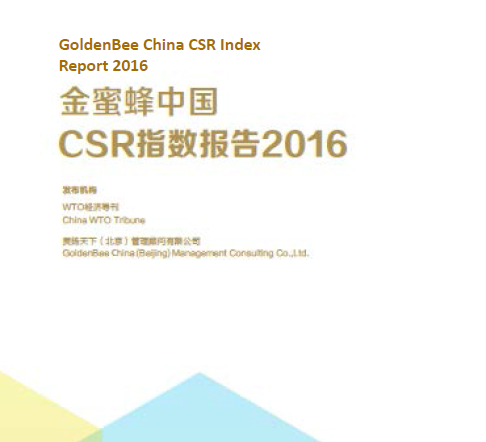 On June 6, 2017, Mr. Yin Gefei, the Vice President of China WTO Tribune and the Chief Expert of GoldenBee CSR Consulting, released GoldenBee China CSR Index Report 2016 in 12th International CSR Forum in Beijing.
This report is the fourth GoldenBee China CSR Index Report released by China WTO Tribune, after its first GoldenBee CSR Index report (2007-2013) released in 2014. China WTO Tribune had released GoldenBee China CSR Practice Benchmark Report for six consecutive years from 2008 to 2013.
This report is based on 360 valid questionnaires and 69 valid cases collected in "Looking for GoldenBee Enterprise" Activity. This Activity has lasted for 10 years, during which 3,088 questionnaires and 976 cases have been collected.
What are the major findings of this report? What are the performances of GoldenBee enterprises and other enterprises?
? GoldenBee enterprises' performances of social responsibility were in the lead among all enterprises evaluated, and they showed a stronger competitive edge in information disclosure index, and strategy & governance index.
? State-owned enterprises have maintained their leading role in CSR practice index for 3 consecutive years, and their performances of CSR fulfillment of communities, governments and the environment were far better than other types of enterprises. Foreign-invested or, Hong Kong, Macau, and Taiwan enterprises took the lead in their strategy & governance index, and they laid more emphasis on integrating social responsibilities into corporate strategies.
? Private enterprises performed the best in terms of CSR fulfillment of communities. Their performances of CSR fulfillment of employees, governments, and suppliers also improved distinctly. But further improvement should be made in CSR fulfillment of social organizations and the environment.
? For different industries, CSR indexes vary distinctly. The manufacturing, storage, and transportation industries performed generally better than other industries, the power industry performed the best in fulfilling social responsibilities, the engineering industry's responsibility index decreased to some degree, and the wholesale and retail industry's responsibility index was the lowest.
? Enterprises showed a steady increase in their CSR fulfillment, especially in terms of improving the influence of CSR practice and exhibiting its demonstration and promotion role, and the gap between indexes of leading enterprises and growing enterprises was narrowing down, with both parties attaching great importance to the CSR fulfillment of communities and employees.
In addition, enterprises also laid more emphasis on the poverty alleviation measures and projects while participating in targeted poverty alleviation.
As the great breakthroughs of CSR practices and increasing CSR fulfillment made in China in 2016, CSR practice indexes reached its highest level with major improvement made in information disclosure.
Facing the rapid CSR development in China, enterprises will encounter more challenges and opportunities. What should they do to keep the pace of CSR development? The report provides some insights.
? Taking the UN 2030 Agenda for Sustainable Development and China's National Plan on Implementation of the 2030 Agenda for Sustainable Development as opportunities, make joint efforts with stakeholders to usher in a new development chapter for the CSR development in China.
? Based on industrial characteristics, enhance the guidance to enterprises on social responsibility fulfillment, organize and conduct diverse cross-border communication and exchange activities about social responsibility fulfillment to facilitate enterprises in different industries to enhance their CSR fulfillment.
? Continuously improve the performance of CSR fulfillment of communities, employees, suppliers and the government, etc., and lay more emphasis on CSR fulfillment of environment, social organizations, customers and other stakeholders.
? Give play to the guiding role of leading enterprises and GoldenBee enterprises in social responsibility fulfillment to enhance social responsibility communication among different ownerships enterprises.
? Enhance the understanding of "only enterprises that actively fulfill social responsibility are the ones with the strongest competitiveness and vitality", to continuously improve enterprises' responsible competitiveness.
? Deeply integrate poverty alleviation projects with production and operation to improve the long-term effect of targeted poverty alleviation projects.
In December 2017, we will hold 10th International Conference on CSR Reporting in China. At that time, more information on the CSR performance of the enterprises will be released.