Opportunities in China's transition towards a nature-positive economy
source:goldencsr &nbsp&nbsp date:2022-02-16 16:08:49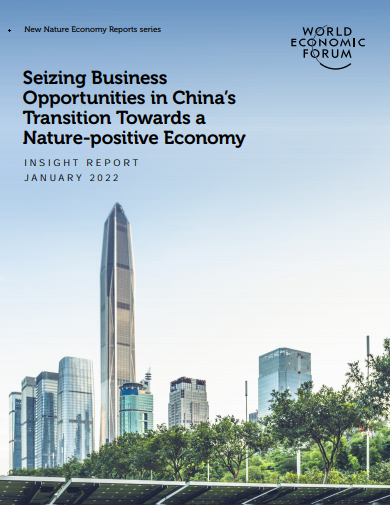 China has an opportunity to achieve its economic and social ambitions and the vision of ecological civilization, while creating millions of sustainable jobs by 2030 if it transforms three systems at the heart of its economy, according to the latest report in the World Economic Forum's New Nature Economy Report series.
The report, Seizing Business Opportunities in China's Transition Towards a Nature-positive Economy provides a deep dive into achieving a nature-positive economy in China. Produced in collaboration with GoldenBee, this report emphasizes the vital importance of environment, ecology and natural resources, and how directly linked their ecosystem services are to China's economy. It outlines the business transitions that could generate significant social and economic benefits, while addressing nature loss in one of the world's top biodiversity hotspots.
For China, the world's second largest economy and one of the most biodiverse countries in the world, two thirds (65%) of its total GDP is at risk of disruption through nature loss, accoridng to the new analysis.
China's vision to become an "ecological civilization" is now written into its constitution. This is good news for China and for the world. The foundation of such a vision must be to build a nature-positive economy: an economy in harmony with Earth, indeed, an economy that drives emissions down, improves soil health, purifies air and water, and supports a rich diversity of life. This report is an important first step along this path.
This report highlights the importance of embracing a naturepositive target that aims to reverse nature loss by 2030 and restore natural ecosystems towards full recovery by 2050. To realize this goal, the report proposes 15 nature-positive transitions that could add $1.9 trillion in annual business value to China's economy and create 88 million new jobs by 2030. For each of the transitions required, the report sets out recommendations for business- and government-driven action and highlights progress to date and case studies.
Seizing these new business opportunities will enable companies to reap commercial benefits while contributing towards biodiversity conservation. Long-lasting business prosperity cannot be achieved without taking responsibility for protecting nature.
As the third report of the New Nature Economy Reports (NNER) series, this report provides Chinese businesses with a clear roadmap towards this future. It demonstrates how businesses and policy-makers in China can work together to break silos and become an example for businesses and governments everywhere.
The New Nature Economy Reports (NNER) series by the World Economic Forum seeks to explain why nature-related risks matter to business, which transitions are needed to move towards a naturepositive economy and how business can be a part of the solution, paving the way to create new opportunities and generate sustainable value.
This report is available in English and Chinese.
Download PDF (English)
https://www3.weforum.org/docs/WEF_New_Nature_Economy_Report_China_2022.pdf
Download PDF (Chinese)
https://www3.weforum.org/docs/WEF_New_Nature_Economy_Report_China_2022_CN.pdf
More detail on New Nature Economy Reports (NNER) series, please visit: https://www.weforum.org/reports/new-nature-economy-report-series