Our CSR Case awarded "Excellent" by CEC·CDEA
source:goldencsr &nbsp&nbsp date:2023-04-10 18:20:31
On March 27, 2023, the shortlist of 2022 Excellent Cases of Management Consulting hosted by China Enterprise Confederation Management Consulting Committee was announced. The Social Responsibility Management System Building Under the Sustainable Development of Company J (hereinafter referred to as "Case"), led by Yin Gefei, Chief Expert of GoldenBee Consulting, stood out and won the Excellent Case. The Case presents the results of GoldenBee Consulting's practice on performing new development concept and promoting the high-quality and sustainable development of enterprises with intellectual services.

Launched in 2011, the selection activity organizes and publishes excellent cases of management consulting nationwide every year, which is a specific action in response to the call of the International Council of Management Consulting Institutes and has received extensive attention from management consulting institutions and related enterprises.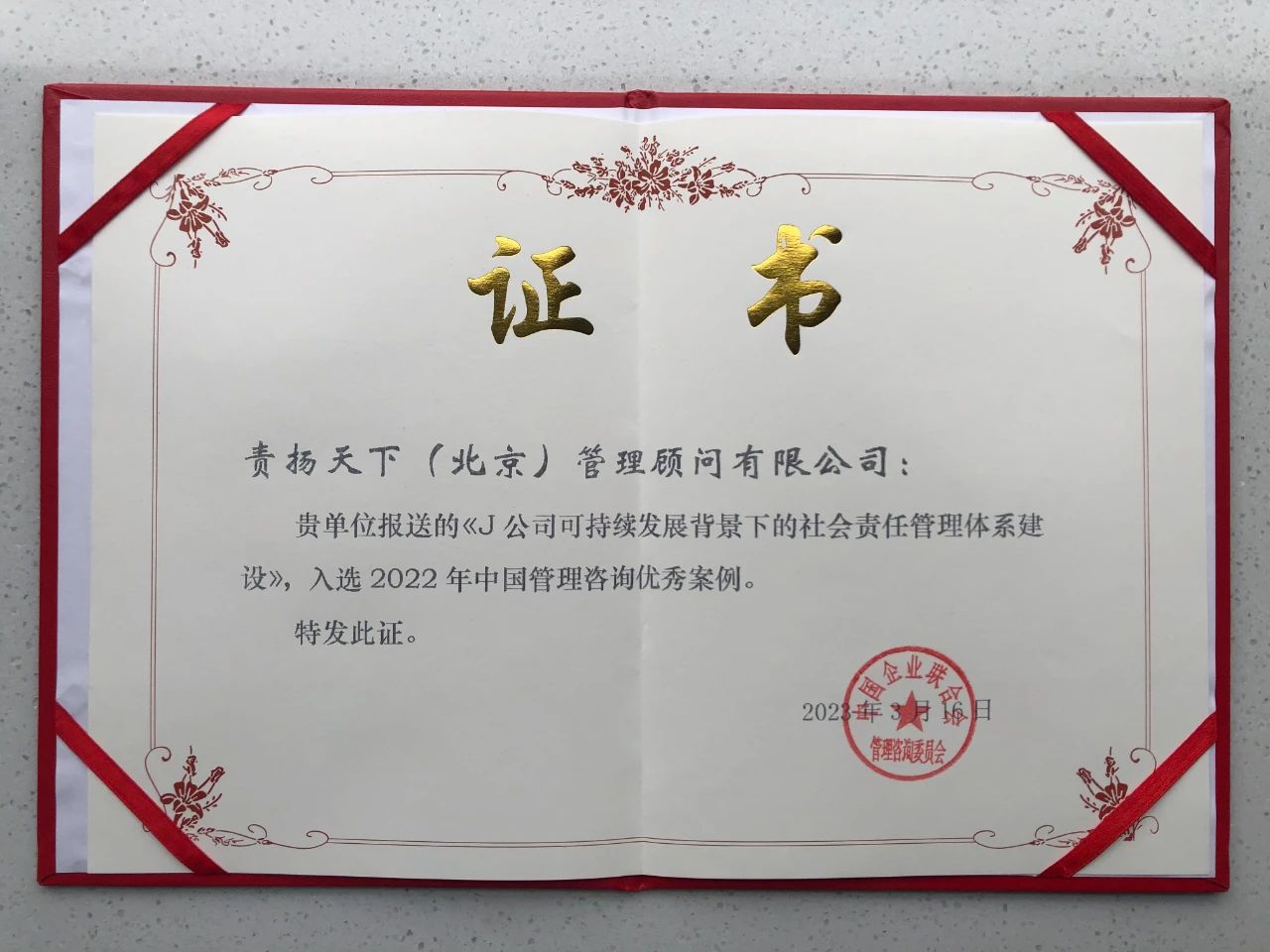 According to the national standard GB/T 39604-2020 Social Responsibility Management System - Requirements with guidance for use, the Case formulated a work plan for the construction of social responsibility management system on the basis of analyzing and diagnosing the current situation of Company J' CSR management. The work plan helps Company J establish a social responsibility management system working body with content and implementation standards clarified, and finally assist Company J to build a sound system, and successfully pass the audit and certification and obtain certificates.
Mr. Yin Gefei addressed that GoldenBee Consulting will continuously improve our own consulting strength with innovative products and services, work together with China's most innovative and forward-looking enterprises to lead China's CSR management practices, and contribute more to the sustainable development of Chinese enterprises.
For more information on social responsibility management consulting, and training etc, you can contact us at:
Email:goldenbee@goldenbeechina.com
Tel:010-68711086