The latest CSR development in ASEAN
source:goldencsr &nbsp&nbsp date:2023-07-19 14:05:11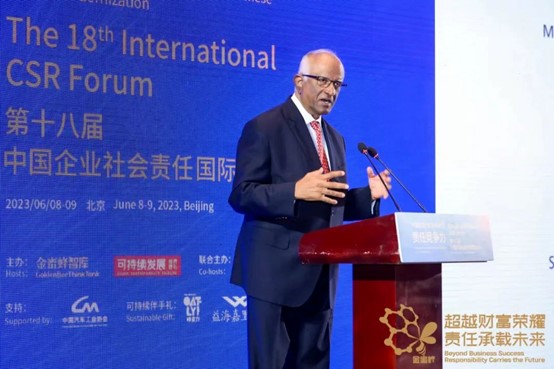 The Association of Southeast Asian Nations (ASEAN) countries have different geographical locations and levels of development, each with its own characteristics. However, they also share many commonalities in terms of corporate social responsibility (CSR). In 2022, ASEAN countries formulated the ASEAN Community Vision 2025, which aims to build a strong ASEAN community based on the three pillars of political-security community, economic community, and socio-cultural community. At the 18th International CSR Forum held on June 8-9, Thomas Thomas, Chair of ISO26000 Stakeholders Global Network (SGN), CEO of ASEAN CSR Network, introduced the content and progress of the ASEAN 2025, as well as the thinking and actions of the ASEAN Business Advisory Council and the ASEAN CSR Network in promoting CSR.
The following are the main contents of the speech:
After the release of ISO 26000 International Standard on Social Responsibility, some colleagues and partners proposed to launch a global network of stakeholders, which is one of the organizations I represent - ISO 26000 Stakeholders Global Network (SGN).
Vision and progress of ASEAN Community Vision 2025
ASEAN is a region with many similarities but also diversity. ASEAN consists of ten countries spanning four time zones. Although the ASEAN ten countries form a community, each has its own characteristics.

Brunei, located in the center, is a wealthy country in terms of economic development, while countries like Myanmar are relatively economically backward. There are countries with democratic systems and countries with military management at the government's political structure level. In terms of population structure, ASEAN has many Chinese people, and many ASEAN leaders may be of Chinese descent, so I think China and ASEAN are closely connected by blood, and ASEAN also actively participates in China's Belt and Road Initiative.
Under the entire framework of ASEAN, we have achieved a series of accomplishments. For example, from 2007 to 2017, ASEAN's GDP has more than doubled, making it the third largest economy in Asia and the sixth largest economy in the world.
However, in the pursuit of economic development, a lot of costs have also been paid. Since the 1990s, people have become increasingly aware of the harm caused by irresponsible business activities, including air pollution caused by straw burning, haze caused by unsustainable practices in the palm oil industry, forced relocation of indigenous people in large-scale dam projects in Vietnam, Myanmar, and Laos, and poor treatment of immigrant workers in Singapore.
Responsible business is a key strategy to achieve the ASEAN Community Vision 2025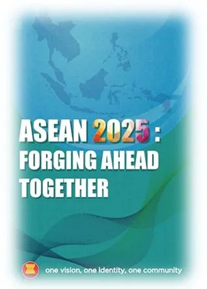 "We resolve to consolidate our Community, building upon and deepening the integration process to realise a rules-based, people-oriented, people-centred ASEAN Community, where our peoples enjoy human rights and fundamental freedoms, higher quality of life and the benefits of community building, reinforcing our sense of togetherness and common identity."
ASEAN Community Vision 2025
Responsible businesses play an important role in achieving the goals of the ASEAN Community Vision 2025 in political-security, economic, and socio-cultural community. For businesses, the key strategy for economic development is to fulfill corporate social responsibilities, such as labor development, community development, and environmental development.
Currently, many goals have been put into action. The ASEAN CSR Network mainly promotes and implements corporate social responsibility, hoping to create more responsible economic entities and business companies. To this end, the ASEAN CSR Network and the ASEAN Business Advisory Council jointly launched the "ASEAN Responsible Inclusive Business Alliance", whose members include enterprises, regional organizations, national and international organizations, etc. Under this alliance framework, we analyze and understand what kind of business is responsible and inclusive, and then help companies make some definitions and guidelines. The essence of business is profit-oriented, but CSR should not be lost or abandoned in making profit. It is very important to achieve a balance between the two. The principles of the alliance are highly consistent with the principles of ISO 26000. Through a series of responsibilities, such as accountability, transparency, ethical behavior, respect for the interests of stakeholders, respect for the rule of law, respect for international norms of behavior, and people-oriented approach, companies are encouraged to fulfill their social responsibilities in their business activities. Dimensions of responsible and inclusive business coverage include government governance, environment, employees, anti-corruption and integrity, human rights, consumer protection, community engagement and development. We must build a diverse economy and society for people to recognize the important value of CSR and to widely promote and disseminate it between the public and businesses, thereby further implementing relevant policies.
Action path for a sustainable future
To achieve a sustainable future, it requires joint efforts from both businesses and the general public. I propose five action paths.
First
, comply with laws and pay taxes according to the law.
Second, comply with standards. This includes ISO international standards, as well as codes of conduct such as association standards.
Third, maintain consistency. While applying standards, it is important to align with them consistently. For example, in the process of implementing ESG, each company may have different focuses. However, whether it is environmental, social, or corporate governance, these factors directly influence and relate to each other, and should be promoted together.
Forth, maintain sustainability. Compliance with these regulations and standards should not be followed only because of temporary enthusiasm or occasional pressure. CSR is a responsibility that requires sustainability.
Fifth, establish communication. Establish communication mechanisms such as CSR/ESG reports to benefit citizens and consumers.
We need to realize that caring for the Earth and nature is also caring for humanity. Only in this way can we achieve social harmony and peace, which is our ultimate goal.
This article is based on Thomas Thomas's speech at the 18th International CSR Forum.