2015 Top 10 CSR Events in China
source:China WTO Tribune &nbsp&nbsp date:2016-02-24 16:56:08
No. 01 Three National Standards on Social Responsibility Released
On Jun. 2, three national standards GB/T 36000-2015 Guidance on Social Responsibility, GB/T 36001-2015 Guidance on Social Responsibility Reporting and GB/T 36002-2015 Guidance on Classifying Social Responsibility Performance were officially approved and released, and would come into effect on Jan. 1, 2016.
Reasons for Selection:
First, it indicates that China attaches importance to the international standard on social responsibility―ISO 26000 at the national level and begins to have its own social responsibility standard with Chinese characteristics. It marks China's proactive response to international norms, thus wins international acclaim. Second, it helps reach consensus on social responsibility in China to provide references and support for other social responsibility standards. Third, it creates new approaches for enterprises to conduct their social responsibility work. In conclusion, the three national standards will bring China's CSR development in its infancy to an in-depth phase, and the launch of the standards marks an important milestone in China's CSR development.
Related Events:
On Mar. 11, Shenzhen Party Committee Office and Shenzhen Municipality Government Office released Guidelines on Promoting CSR Development. The supporting CSR Requirements (SZDBZ/Z134-2015) and Guidelines on CSR Assessment (SZDBZ/Z134-2015) will be put into practice on Apr. 1.
In November, Shanghai Pudong New Area officially launched its comparison and analysis project on national social responsibility standard and Shanghai's local CSR standard.
No. 02 China and Sweden Sign the 3rd MOU on CSR
On Sep. 9, China and Sweden signed new memorandum of understanding for continued cooperation on CSR.
As the 3
rd
MOU signed by both parties since 2007, it further expands the cooperation, adding areas like purchasing, garbage and
sewage
disposal, human rights in business, transparent and sustainable investment.
Reasons for Selection:
2015 marks the 65th anniversary of the establishment of diplomatic relationship between China and Sweden. As a key part of Sino-Swedish cooperation in multiple areas, the MOU is renewed by both countries, which marks not only continuation and expansion but also the acceleration of the international cooperation in China's CSR field. The newly added cooperation areas represent the determination of China and Sweden to promote social responsibility and sustainable development in a more concrete manner.
Related Events:
From Jun. 4 to Jun. 5, the 10th International CSR Forum was successfully convened. China WTO Tribune continued to cooperate with CSR organizations in Europe, America and Japan.
On Jul. 2, Chinese government and OECD signed a medium-term cooperation vision statement and a joint program of work for 2015-2016, pointing out to make joint efforts to promote responsible behaviors.
On Dec. 10, Swedish Embassy to China released 2015 CSR White Paper for Swedish Enterprises in China.
No. 03 The Guidelines: SOEs Should Be Role Models to Perform Social Responsibility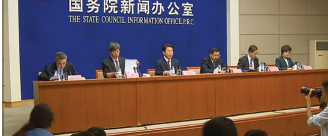 On Sep. 13, Guidelines on Deepening SOE Reforms (abbreviated as the Guidelines) was officially released by CCCPC and the State Council, pointing out "SOEs under socialist market economy should proactively become role models to perform social responsibility".
Reasons for Selection:
Giving full play to SOE's role model in social responsibility fulfillment is one of the highlights of deepening SOE reform in the new era. It is conducive for us to integrate the improvement of the state-owned capital allocation efficiency, the structural optimization of national economy and the dominant role of state-owned economy. In this way, giving full play to SOE's leading role will become the basic positioning and action guideline of SOE's social responsibility development. Compared with the past, the Guidelines stresses "take the initiative", requiring SOEs to take proactive actions. Meanwhile, the Guidelines will help enterprises to strike a balance between reform and development to properly handle the relationship between efficiency and equality.
Related Events:
On Mar. 24, led by the Research Bureau of SASAC and undertaken by GoldenBee CSR Consulting, the research subject of social responsibility strategic planning study on central SOEs during the 13th five-year plan period was officially launched
From Nov. 19 to Nov. 20, Working Conference for CSR Promotion among Central SOEs was convened. Wenbin Wang, Vice Chairman of SASAC, posed requirements for central SOEs during the13th five-year plan period from the perspectives of the overall goal and main work in social responsibility field.
No. 04 Five Development Concepts Put Forward for the First Time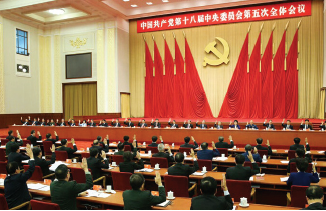 From Oct. 26 to Oct. 29, the 5th plenary session of the 18th CPC Central Committee firstly brought up the five development concepts of "innovation, coordination, green development, opening up and sharing" which focus on sustainable development and make clear the direction for enterprises' social responsibility fulfillment.
Reasons for Selection:
The development concepts provide guidance for development actions, and handle overall, fundamental, oriental, and long-term issues. Whether the development concepts are heading the right direction concerns the development effects in essence. The five development concepts are in line with social responsibility and sustainable development, and indicate the development ideas, orientation and point of strength of CSR development in the next five years and beyond.
Related Events:
On Mar. 21, CCCPC and the State Council released Opinions on Building Harmonious Labor Relationship, pointed out that education should lead enterprise operators to proactively fulfill social responsibility and build the CSR standard system and rating system with Chinese characteristics.
In December, CCCPC and the State Council released The Outline of the Development of the Government by Law (2015-2020) which points out to strengthen ecological protection and improve and implement environmental information release system, environmental influence assessment system and pollutant emissions control system. In addition, the outline also provides that we should perfect the ecological environment protection and ecological environment damage compensation system.
No. 05 The 1st HNA Social Responsibility Forum Discusses Commercial Civilization in the New Normal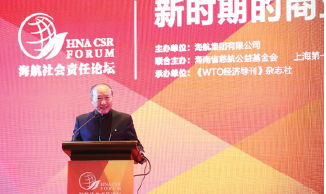 On Nov. 6, with the theme of "Commercial Civilization in the New Era: Ideological Revolution and Innovation", the 1st HNA Social Responsibility Forum discussed the trend of commercial civilization in the new normal.
Reasons for Selection:
This is China's first social responsibility forum initiated by a Chinese private enterprise. The significance is that, on the one hand, enterprises, as the main body of social responsibility fulfillment, promote social responsibility concepts through the development of a fair and just platform and social resources integration while fulfilling their own social responsibility. Thus it contributes to creating a commercial and social environment where enterprises and people both shoulder responsibilities. On the other hand, the forum, with the theme of "commercial civilization in the new era", will lead more Chinese enterprises to rethink the connection between traditional culture, commercial civilization, and social responsibility, thus it enriches enterprises' responsibility fulfillment concepts and practices.
Related Events:
On Oct. 21, Intel China held a celebration for its 30th anniversary of business in China. Its 30 years' development in China refers to the "responsibility leads innovation" in Intel's cross-border cooperation.
No. 06 Chinese Enterprises Overseas Sustainability Report 2015 Released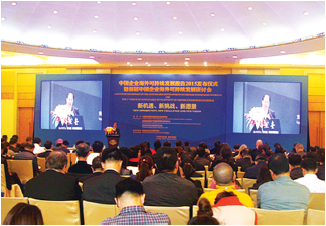 On Nov. 10, CAITEC, the research center of SASAC, and UNDP China Office jointly released Chinese Enterprises Overseas Sustainability Report 2015 in Beijing, introducing the sustainable development of Chinese enterprises overseas to both China and the world for the first time.
Reasons for Selection:
The sustainable development of Chinese enterprises overseas not only concerns China but also the world. Chinese Enterprises Overseas Sustainability Report 2015 reveals Chinese enterprises' global corporate citizenship development which has been by far the first report of Chinese enterprises' sustainable development overseas. Under the background of China's overall layout and the "Belt & Road" initiative, the release of the report plays an important role in increasing the transparency of enterprises' global operation and making innovations in the communication manner between enterprises and the host country. Furthermore, the release also indicates that Chinese think tanks shoulder major responsibility and could play their role in important strategies and topics like "going global".
Related Events:
On Dec. 17, the 7th CHINCA member conference released China's Outbound Contracting Engineering Industrial Social Responsibility Report 2013-2015.
No. 07 Internet Enterprises Sign the Social Responsibility Manifesto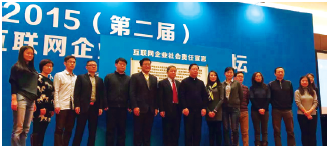 On Nov. 24, Xinhua News, GMW.CN, Alibaba, Tencent, Baidu, JD. COM and other internet enterprises signed the Internet Enterprises Social Responsibility Manifesto, and made ten commitments, including setting up the bottom line awareness, engaging in the internet ecological governance and devoting to the social welfare cause.
Reasons for Selection:
The responsibility dimension in the development of internet industry helps to reduce the possible irresponsible and unsustainable impact in the internet era which contributes to a sound internet industrial environment, a healthy internet ecology and a responsible social image of internet enterprises. In this way, we could create a more sustainable internet civilization.
Related Events:
GoldenBee launched the "Best-Looking CSR Report Cover" competition for reports of central SOEs and foreign-invested enterprises from Mar. 30 to Mar. 31 and from Apr. 21 to Apr. 29. In this way, it achieved the interaction with the public via new media and attracted the wide participation of all walks of life.
On Sep. 9, "Didi Hailing" officially changed its name into "Didi", and said that it would solve travelling difficulties via the creative thinking of mobile internet to bring convenient, safe, quality and good service experience to passengers.
From Dec. 16 to Dec. 18, the 2nd World Internet Conference was convened, releasing Wuzhen Initiative and other 19 results.
No. 08 2015 Marks the 10th Anniversary of Social Responsibility Development in China's Textile and Apparel Industry
On Dec. 10, the 2015 social responsibility annual conference of China's textile and apparel industry was convened. This also marks the 10th anniversary of social responsibility development in the industry. Through 10 years of efforts, we embed the social responsibility system into the industrial development planning. As a result, the responsible competitiveness of the textile industry has been improved.
Reasons for Selection:
China Textile Industry Association has developed industrial social responsibility for 10 years, and initiated ten "firsts", including China's first standing social responsibility promotion institution and China's first online sustainability report compilation and release platform, which makes it the benchmark of industrial social responsibility development. Meanwhile, China's textile and apparel industry performs social responsibility, improves enterprise core competitiveness and sustainable development strength, which makes it the role model of industrial responsibility competitiveness. Moreover, industrial social responsibility development makes proactive contributions to accelerate the transformation of economic growth mode in the new normal, participate in international competition through China's traditional manufacturing industry's "going global", and train a number of talents with social responsibility expertise. The past ten years witnesses the industry's leading role, and in the next10 years the industry will make further exploration and continue to play its dominant role.
Related Events:
From Dec.2 to Dec. 3, at 2015 International Workshop on Responsible Mineral Supply Chains, China Chamber of Commerce of Metals, Minerals & Chemicals Importers & Exporters officially released Chinese Due Diligence Guidelines for Responsible Mineral Supply Chains, the first guide on due diligence in the industrial supply chain.
On Dec. 9, the release conference of 2015 Excellent Cases of Social Responsibility fulfillment by Chinese Foreign-Invested Enterprises was convened. At the conference, index of social responsibility fulfillment excellent practices by Chinese Foreign-Invested Enterprises was released.
On Dec. 28, China Insurance Regulatory Commission launched CIRC Guidelines on Insurance Industry Social Responsibility Fulfillment to promote modern insurance industry to better adapt to the development of economic society.
No. 09 Zhejiang Establishes CSR Promotion Association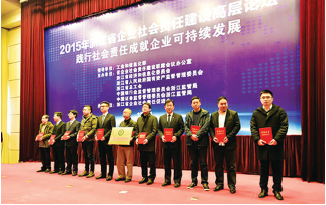 On Dec. 18, at the high-level CSR development forum of Zhejiang Province, Zhejiang CSR Promotion Association declared to come into existence with the aim to help enterprises "raise social responsibility awareness, improve social responsibility concepts, promote responsible practices and achieve responsible competitiveness". Seven well-known Zhejiang enterprises, including Alibaba, Geely and Tianneng Group, were selected as vice president level enterprises.
Reasons for Selection:
The establishment of CSR Promotion Association in Zhejiang Province contributes to CSR fulfillment by enterprises, for it helps enterprises raise social responsibility awareness, improves social responsibility concepts, promotes CSR practices, achieves regional responsible competitiveness and builds regional responsible brand. In addition, it indicates that Zhejiang Provincial Government, enterprises and the public attach great importance to CSR development in Zhejiang Province, which presents local government's proactive role in promoting social responsibility in 2015.
Related Events:
On Jun. 18, 2015 Jiangsu Annual Training Session on CSR Development was held in Nanjing. Jiangsu Economic and Information Technology Commission lists the promotion of CSR development as "Top Ten Key Work" of 2015 and plans to build a "responsible Jiangsu" brand.
No. 10 SEHK Releases the Review of Environmental, Social and Governance Reporting Guide
On Dec. 21, the Stock Exchange of Hong Kong Limited (SEHK) released the review of Environmental, Social and Governance Reporting Guide (abbreviated as ESG Reporting Guide). The document upgrades the recommended disclosures of the ESG Guide to "comply or explain" and poses higher requirements for social responsibility information disclosure and management for listed companies in Hong Kong.
Reasons for Selection:
ESG Reporting Guide by SEHK is the biggest highlight in social responsibility information disclosure in 2015. The indication lies in three aspects: on the one hand, it makes mandatory requirements for information disclosure through rigid standard, which is conducive to regulating and promoting development of social responsibility issues, including investment, gender diversity, etc.; on the other hand, it provides social responsibility practitioners with opportunities to promote management through information disclosure. In addition, it provides references for stock exchanges to develop sustainability themselves.
Related Events:
On Dec. 3, the 8th International Conference on CSR Reporting in China was convened to share and exchange the new trends and regulations of CSR reporting.
On Dec. 17, 2014 Shanghai Civilized Working Unit Social Responsibility Development Report was released. According to the report, over 3,600 civilized working units in Shanghai have completed the compilation and submission of their 2014 social responsibility report. It is for the first time that all civilized working units have submitted their social responsibility report.